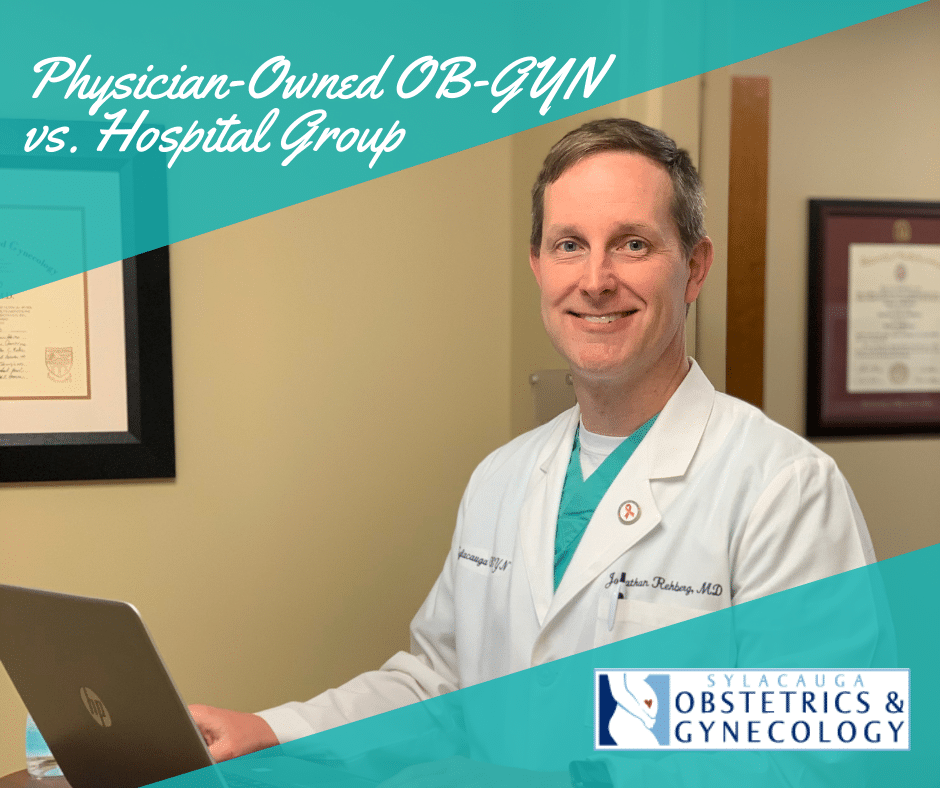 21 Jul

Physician-Owned OB-GYN or Hospital Group?

By Jonathan F. Rehberg, MD, FACOG

Sylacauga is a wonderful city with great people, and most of us prefer to perform our daily tasks close to home, including going to the doctor. At Sylacauga OB-GYN, we are proud to provide both obstetric and gynecology services just a short drive from your home in Sylacauga and the surrounding Coosa Valley area.

You don't have to drive to Birmingham, and you don't have to go to a large hospital OB-GYN group to find all the services you need as a woman, at any stage of life. 
Advantages of Privately-Owned OB-GYNs
Because we are locally and privately owned, we can more easily make changes to our practice as it relates to the care of our patients. These changes can happen quickly, and we want to always be in line with the rapid changes of medicine. This may mean adding staff members, changing providers, and controlling how quickly we grow. We also have newer technology than you often find at hospitals. 
Here are a few of the main things you may want to consider when it's time to choose your OB-GYN:
Who owns the practice?
I own Sylacauga OB-GYN, and I always have. In comparison, many doctors are employed by a hospital in larger OB-GYN groups. 
To demonstrate more about why this matters, I am going to share from my own experience of having a wife who was an employed physician at a hospital for three years. For us, it wasn't a great experience. She now owns her own practice and is much happier. She is able to better manage her staff, including hiring, firing, and making policy adjustments quickly. The staff seems happier because they are able to go directly to the owner of the practice instead of a slow or poorly responsive larger hospital entity. She is able to track and grow more efficiently, including being able to plan for it in an intentional way.
These things that my wife likes so much about owning her own practice are true for me too. Our growth and adjustments at Sylacauga OB-GYN have always been driven by me. 
Who has the best technology?
If I learn about new or better technology that I think will benefit our patients, I get it, and I get it up and running quickly. This is not the case at hospitals. Here's a run-down of some of our technology that patients are often really thankful for.
Electronic Medical Records (EMR) System

— Ours is called

eClinicalWorks

, and it's very popular and up-to-date with exceptional functionality. It includes an iPhone and Android app, which is robust. We can even do televists through it. There is also a specific app for our pregnant moms with pregnancy specific content. When there are healthcare related tech updates, we get all of these as soon as they come out. 

After hours Call System

—  We use another healthcare specific technology called

ClarusCare

for our after hours call system that is all cloud based and easy for patients to contact us. It's also easy for providers to respond.

Ultrasound Machines

—  Our machines are new and up-to-date. We have two

Samsung HS40

machines. We change these ultrasound machines every five years to achieve the latest technology advances. With our emphasis on technology, we are able to send 3D and

4D

images and video directly to cell phones via text. Likewise, we use a specific tech to place ALL ultrasound images into our patient charts; seamlessly merging technologies.

Fetal Monitoring

— We provide in-office fetal monitoring with our NST machines. They include digital capture that goes directly into our patients' charts for provider review.
Does your doctor really know your name?
Not only do I know your name and your history, our other doctor, Dr. McInnis probably knows your name, as well as our nurses. Since we are smaller, we are able to truly get to know you. We hope to see you regularly, starting when girls are pre-teens, continuing to the time when they grow up and have babies of their own, and when they reach mid-life. 
If you've been with another doctor and are wanting to switch OB-GYNs, know that this is possible and that I review every transfer myself to make sure that we're a good match.
Let Us Be Your Local, Privately-Owned OB-GYN
We are here in Sylacauga to be convenient for you and to make your life easier by providing top-notch obstetrics and gynecology services close to home. We are your small town, big city doctor, and wherever you are in life, we can help take care of you!
LEARN MORE ABOUT WHAT MAKES SYLACAUGA OBSTETRICS AND GYNECOLOGY A TOP PROVIDER
Sylacauga OB-GYN is the premier provider of obstetric and gynecological services in Sylacauga, Alexander City, Talladega, and the surrounding areas. From your first exam to your new little one's delivery, our staff and providers are here to make your journey as smooth as possible. At Sylacauga Obstetrics & Gynecology, we are ready to answer your questions, provide support, and guide your process during your baby's growth! 
No need to drive to Birmingham to receive a superior quality of care for you and your impending bundle of joy. We are big town doctors with small-town care! Check out our website or give us a call at 256-487-9346 for more information or to schedule an appointment. For more information about healthy pregnancies, delivery options, and more, give us a call or email us at [email protected].