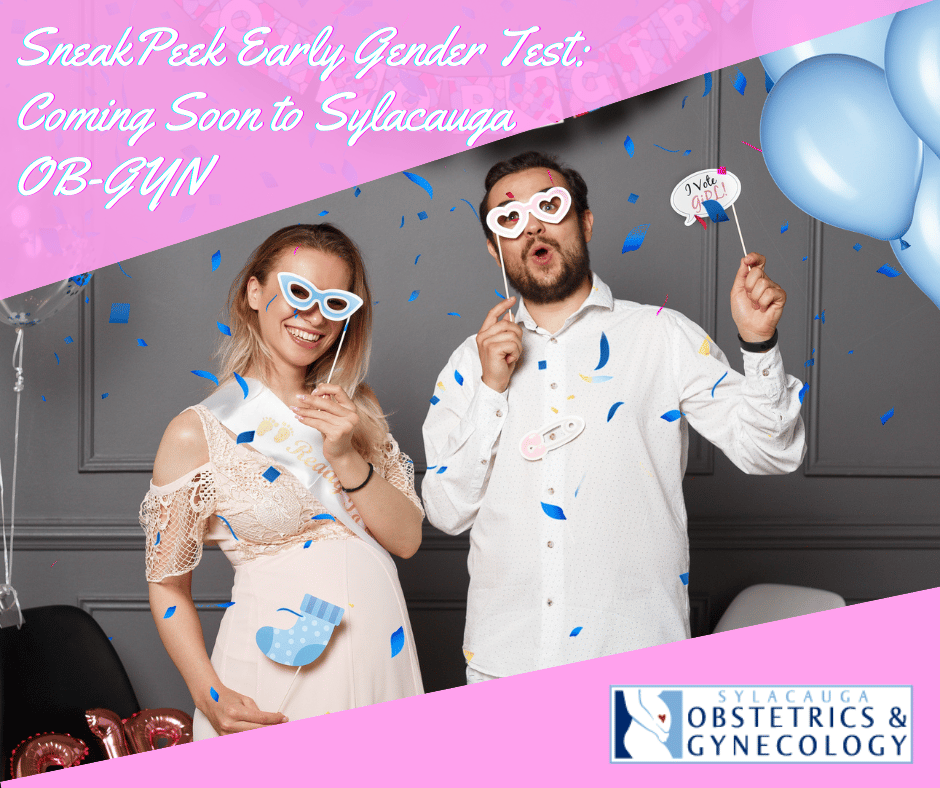 06 Dec

SneakPeek Early Gender Test: Coming Soon to Sylacauga OB-GYN

Creating a life is an exciting time—and one where time takes on a whole new meaning. Some days, you're amazed at how quickly things are moving along. On others, 9 months seems like it'll never pass, especially when you're anxiously waiting to find out whether you're having a boy or a girl. With names to choose, rooms to decorate, and lots of family to tell, getting an early gender test can make a world of difference!

At Sylacauca OB-GYN, we know how exciting the gender reveal is for our patients. That's why we're proud to bring SneakPeek® gender testing to the Coosa Valley area in January 2023! This amazingly simple yet sophisticated baby gender test is perfect for families who just can't wait to get started getting to know their new addition.

There's a lot to be excited about—and we're sure you have lots of questions—so we're here to explain what SneakPeek testing is all about.
When Can You Find Out the Gender of Your Baby?
Typically, we wait until the 18-22 week timeframe to perform the ultrasound where your baby's gender can be determined. Before that time, we can't see the baby's anatomy accurately enough to say for sure. But new technologies are allowing us to get an earlier and more accurate glimpse than ever before—and it all comes down to DNA in your blood.
The SneakPeek Clinical Early Gender Test allows you to discover your baby's gender as early as 6 weeks into your pregnancy. Think of all you could do with 3 extra months of time to plan, decorate, and celebrate your little one! For many moms and moms-to-be, it's a dream come true.
How the SneakPeek Test Works
This test uses a small blood sample to look for male genes in your blood. When you're pregnant, a small amount of your baby's DNA enters your bloodstream (amazing, right?). If you're having a boy, that means you'll have Y chromosomes in your blood. If you're having a girl, you'll only have X chromosomes—no Y in sight. So, by testing for the presence of even one Y chromosome, we can determine the baby's gender as early as 6 weeks!
When you come to visit Sylacauga OB-GYN for the clinical version of the test, we'll take a small blood sample. Because this is a non-invasive prenatal test, you don't have to worry about anything affecting your baby. We'll send the sample via priority overnight shipping to the SneakPeek lab, and you can get your results as soon as the next day.
How accurate is the SneakPeek test?
The SneakPeek Clinical test is the most accurate baby gender test available on the market today, boasting an incredible 99.9% accuracy rate. That's why we're excited to bring it to women in Sylacauga. Our goal is to offer our patients not just the latest, but the greatest medical tools and technologies. SneakPeek passed muster with us, so we're ready to introduce it to our community!
In fact, SneakPeek is so confident in its ability to accurately predict the gender of your baby, that you'll receive a full refund if it turns out to be wrong. We like that kind of satisfaction guarantee!
What's the difference between SneakPeek Clinical and the at-home version?
The principles and method of testing are the same—one version isn't processed differently than the other. That said, doing the test at home could prove less accurate if you don't follow the test kit instructions to the letter. Coming into the clinic guarantees that your sample is collected, packaged, and processed with full safety and sterility.
Benefits of the Clinical version include:
Less risk of contaminating the sample
Higher accuracy
Faster & easier blood draw
Worry-free
We handle priority shipping to the lab
Am I a good candidate for the SneakPeek test?
Any expecting moms are great candidates for this test! Because it's based on DNA, hormone disorders, medications, and previous pregnancies won't impact the results. It can even help if you're expecting twins! While it can't determine whether both twins will be boys or not, it can at least tell you if one of them will be. This test is safe for mom and baby alike!
How much does SneakPeek cost?
At our clinic, we're offering the test for $140 (less than the at-home, Snap FastTrack service online), which is of course backed by the aforementioned satisfaction guarantee. And if for any reason the results come back inconclusive, we can try one more time for free.
Pink or Blue—Find Out Who's Joining You!
We can't wait to help our patients get a head start on welcoming new little ones into the family. If you're in the early weeks of pregnancy and want to find a doctor who can help you get a sneak peek (and isn't all the way in Birmingham), give Sylacauga OB-GYN a call! We're taking new patients now, and will be able to start administering the tests starting January 1, 2023.
Arriving 2023: SneakPeek Clinical Gender Testing in the Coosa Valley Area
Sylacauga OB-GYN is excited to bring the world's most accurate early gender test to families in the Coosa Valley area! We'll begin offering our patients this amazing chance to get a jumpstart on planning and celebrating their new bundles of joy in 2023. Ask your provider about how you can get started—call 256-487-7783 or contact us online with questions!