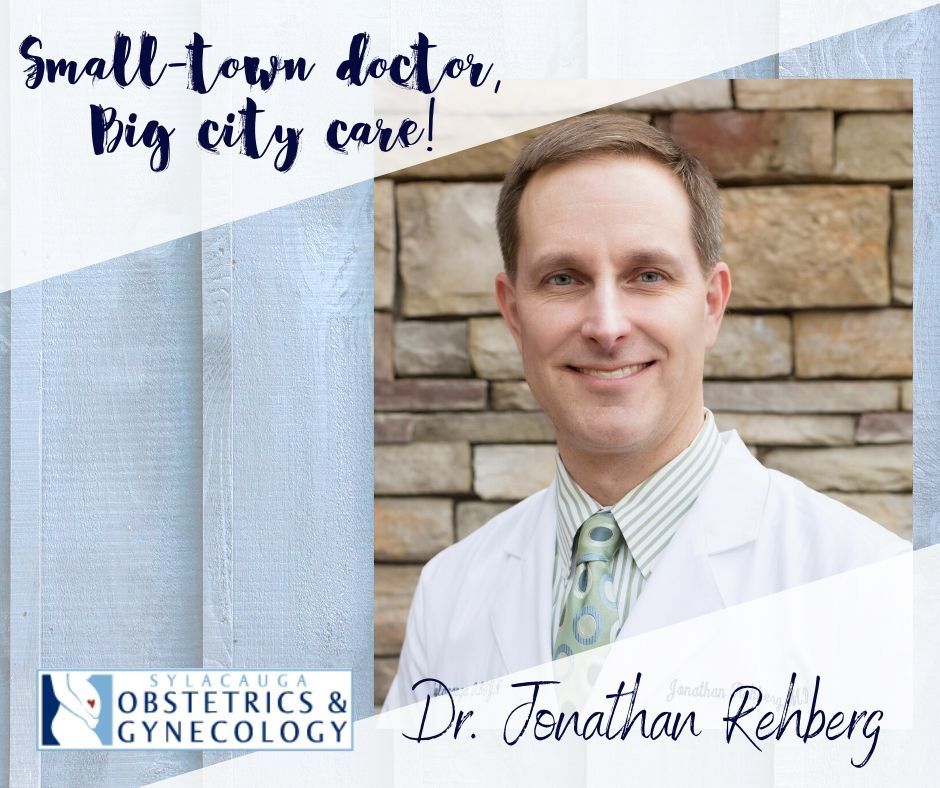 27 Dec

Meet Dr. Jonathan Rehberg – Small town doctor, big city care

Meet Dr. Rehberg, a Fellow of The American College of Obstetricians and Gynecologists and board-certified in Obstetrics and Gynecology.  He is also a member of the Talladega County Medical Society and the Medical Association of the State of Alabama. Dr. Rehberg has a particular interest in minimally invasive gynecologic surgery, including laparoscopic hysterectomies, and is a member of the American Association of Gynecologic Laparoscopists. He handles a range of services, from delivering babies to annual gynecological exams to breast cancer.

Dr. Rehberg is married, and he and his wife have three boys, including identical twins! He enjoys family activities, golf, photography, and relaxing in the back yard with friends. In this post, he tells us the story of how he became the premier provider of gynecological and obstetrics care in Sylacauga and the surrounding areas. 
Interested in helping others from an early age
I grew up in a small town, Dalton, GA, known as the carpet capital of the world. I knew I wanted to care for people from an early age. In high school, I was confident that becoming a doctor was my calling in life, and I wrote an essay about everything I would need to do to achieve this goal. I wrote about the path to residency, the MCAT, and all of the education and training.  I thought it would be a noble calling and a noble profession. 
Education
I attended the University of South Carolina and then graduated from the University of South Carolina School of Medicine in Columbia, SC. I was the president of my medical school class for four straight years. 
After medical school, I completed my residency in Obstetrics and Gynecology at The University of Mississippi Medical Center in Jackson, MS. Following residency training, I joined the faculty at UMC in Jackson for a year, teaching medical students and residents. During all of that time, I wrote several academic papers published in peer-reviewed journals. 
Choosing a specialty
Medical school is divided into two halves.  The first half is basic science and didactic learning, and the latter years are clinical years done in hospitals and clinics, not in classrooms. The third year is where we rotated through the core specialties: surgery, pediatrics, psychiatry, family medicine, OB-GYN, and Internal Medicine. 
I was drawn to obstetrics and gynecology when I did my OB-GYN rotation because of the combination of medicine and surgery, and I developed a love for the operating room. I liked how I could take care of a patient beginning to end, from the clinic to the operating room, without a lot of hand-off to other specialists. There is so much an OB-GYN can do themselves. 
In my fourth year in medical school, I did a rotation in rural South Carolina and worked with an OB-GYN group where I ran their labor and delivery unit for a month. During this rotation, I got an intensive look at the obstetrics side of what we do, and I had a lot of autonomy. I did deliveries, both vaginal and cesarean sections, and provided other obstetrics care and procedures. I loved coming to work, working with patients and staff, and working in the delivery and OR suites. 
Small-town doctor, big city care
When I was finishing my fourth year of medical school, a physician told me that I should train at a big academic center, so I did. I matched with my first choice, the University of Mississippi's teaching facility in Jackson.  As it turned out, this was an excellent choice as I saw a wide variety of diseases and performed lots of gynecologic surgery. After I completed four years of the required OB-GYN training, I joined the faculty there for a year, but I was not fond of the academic department environment. I wanted to be helping people.
I found a unique opportunity in Sylacauga to hang out a shingle and begin my practice. It was here that I found my niche as the one and only OB-GYN and where I had the opportunity to bring the education I received from these big medical institutions to an area that truly needed it. You could say that I'm a small-town doctor who trained in the big city and big-city hospitals and has been able to bring that experience back to the small-town, rural community. There have been a lot of growing pains, and a lot of elbow grease goes into running a practice out here, but I have enjoyed all of it – the highs, the lows, and everything in between. 
Approach to care
I'm a believer that every patient and every patient encounter, including the good, which is about 90-95% of the time, and the bad, which is a very small percentage (thank the Lord), affects the physician as much as it affects the patient and their family. 
My approach to care comes in two parts. First, every patient gets the same attention and care no matter their walk in life. Second, I always ask myself if what I am recommending to a patient is what I would want for my wife, my sister, my mother, etc. I'm not doing anything that I wouldn't want to see them getting from a provider of theirs. 
Family is important to me, and I believe my experience as a father has made me a better physician for my patients. It's one thing for me to care for patients and families who are having children through a physician's perspective, but having my own children gave me a different appreciation. Being there as the spouse during the C-section, recovery room, postpartum room, and through all of it has given me unique insight for care for our patients. 
We treat every patient as if they were a family member. Patients will ask me if what we talk about or what I suggest would be the same if it were for my wife, sister, etc. I can confidently answer that anything I recommend would be the same thing I'd say to a family member. I am passionate about the care I provide to my patients – my family here in Sylacauga. 
---
LEARN MORE ABOUT WHAT MAKES SYLACAUGA OBSTETRICS AND GYNECOLOGY A TOP PROVIDER
Sylacauga OB-GYN is the premier provider of obstetric and gynecological services in Sylacauga, Alexander City, Talladega, and the surrounding areas. Give us a call at 256-249-6995 for more information or to schedule an appointment.