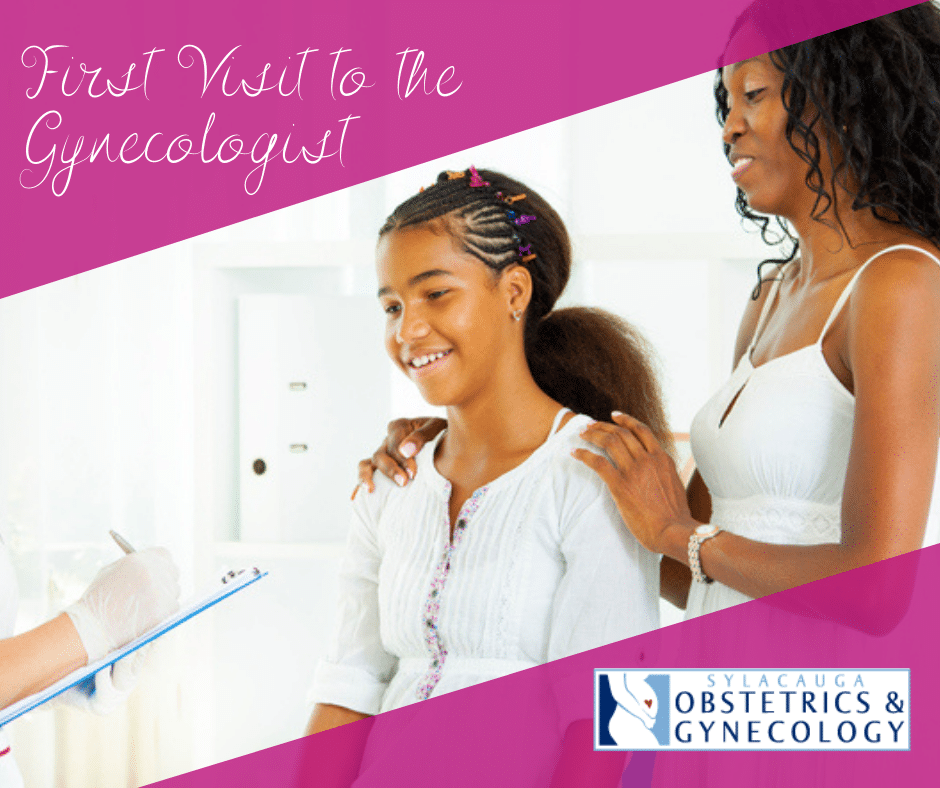 23 Feb

What to expect at your daughter's first visit to the gynecologist

By Emily A. McInnis, DO

Coming to the gynecologist is NOT as scary as people make it out to be. It's really not! While there may be some scary stories out there, women's healthcare has changed significantly over the years. If you are a mom of a young teenage daughter, a positive attitude on your part will go a long way in calming any fears they may have regarding their first visit to the gynecologist.

We really just want to get to know your daughter. We are not going to discuss anything or do any kind of examination or test that should cause discomfort. We are a team at Sylacauga OB-GYN, and we strive to make every patient feel confident and comfortable with their health, body, and relationships. 

We hope to take care of your daughter from adolescence all the way to menopause – and hopefully through each pregnancy in between! Therefore, it is extremely important for us to establish good rapport early on and maintain a strong relationship through all of the phases of life. Consider the first visit a very casual "meet and greet!"
When and Why Girls Should First See a Gynecologist
The American College of Obstetricians and Gynecologists recommends that the first visit be between 13 and 15 years of age for annual visits. This is when many girls are noticing changes in their bodies or starting their cycles. Questions related to that are common. Some teens may have problems that they don't even realize are issues until we have a discussion at their visit. 
The first appointment can cover an array of topics that are important at this age, such as:
Confidentiality

Preventative GYN care

Anatomy

Pubertal development

Menstruation

Immunizations

Nicotine/drug use

Healthy relationships

Eating disorders

Physical activity and diet

Tanning and skin disorders

Mental health

Sexuality

Contraception and pregnancy prevention

Sexually transmitted infections
What to Expect at the First Visit — Common Questions
The primary goal of this first visit to the gynecologist is to get to know your daughter, as well as to provide preventive health care services, educational information, and guidance. There may also be a need for problem-focused care. The most important thing we hope you and your daughter gain from this initial visit is trust and confidence in us. 
Before getting started, we will talk about what to expect for the physical examination portion of the visit, identify any concerns, and ask about your level of comfort. In some cases, a physical examination might be performed at a separate visit, if preferred.
Here are some of the most common questions we hear from both mothers and daughters about this first visit to the gynecologist.
Is there anything we should do to prepare?
There is nothing to do to prepare – let us do the work! Some people like having a discussion about certain terms or questions that we might ask before they come in. Some want to discuss anatomy beforehand so they understand what we do and why we do it. However, most parents leave it to us to teach and explain, and that's perfectly fine. That's our job!
Will anyone else be in the exam room?
If a physical examination is indicated (in symptomatic cases or to provide education about anatomy and hygiene), we ask adolescent patients if they would prefer this portion of the examination to be done with or without a parent or guardian present. 
While patients always have autonomy regarding parent or guardian presence during examination, a chaperone (an employee of the clinic) will always be present with the physician as well. Patients are counseled that they have the right to decline any examination.
Will my daughter have to get undressed?
Typically, our younger patients do not need to get undressed for this initial visit. If a pelvic exam is indicated or requested, they will need to remove clothing from the waist down, and a sheet is provided for privacy during the exam. If a breast exam is indicated, they will remove clothing from the waist up and they will have a gown to wear for privacy.
Will you ask personal questions?
You should expect that we will need to ask private questions, and sometimes it is easier to give honest feedback if the parent or guardian is not present. I always ask the parent or guardian to leave for these particular questions unless the patient wants them to stay. These may include questions about menstrual cycle, sexual activity, history of STDs, drug use, and relationships. 
Will you perform a breast exam, pelvic exam, or Pap smear?
Unless there are specific problems or issues, a breast/pelvic exam is not recommended before the age of 21. An internal pelvic examination might be indicated earlier due to symptoms, such as abnormal bleeding, discharge, abdominal pain, or pelvic pain.
Many adolescents and parents are unaware of the difference between a Pap smear and a pelvic examination. We begin PAP smears at age 21 as well, and this is for cervical cancer screening. This is different from a pelvic exam where we perform a bi-manual exam to palpate the uterus and ovaries and rule out any anatomical abnormalities. If patients are sexually active, annual screening for chlamydia and gonorrhea is recommended
Why the first visit is so important
After the initial visit, we will want to see your daughter annually because her needs will change with age. All adolescents should have the opportunity to discuss health issues with a healthcare professional one-on-one. They may feel uncomfortable talking about these issues in the presence of a parent, guardian, or sibling. We want to be here for them as a trusted partner to help them during these initial years of gynecologic care, all the way through pregnancy, and beyond.
We look forward to seeing you and your daughter and making you both feel comfortable with this first visit to the gynecologist!
LEARN MORE ABOUT WHAT MAKES SYLACAUGA OBSTETRICS & GYNECOLOGY A TOP PROVIDER
Sylacauga OB-GYN is the premier provider of obstetric and gynecological services in Sylacauga, Alexander City, Talladega, and the surrounding areas. From your first exam to your new little one's delivery, our staff and providers are here to make your journey as smooth as possible. At Sylacauga Obstetrics & Gynecology, we are ready to answer your questions, provide support, and guide your process during your baby's growth! 
No need to drive to Birmingham to receive a superior quality of care for you and your impending bundle of joy. We are big town doctors with small-town care! For more information about healthy pregnancies, delivery options, and more, give us a call at 256-249-6995 or email us at [email protected].