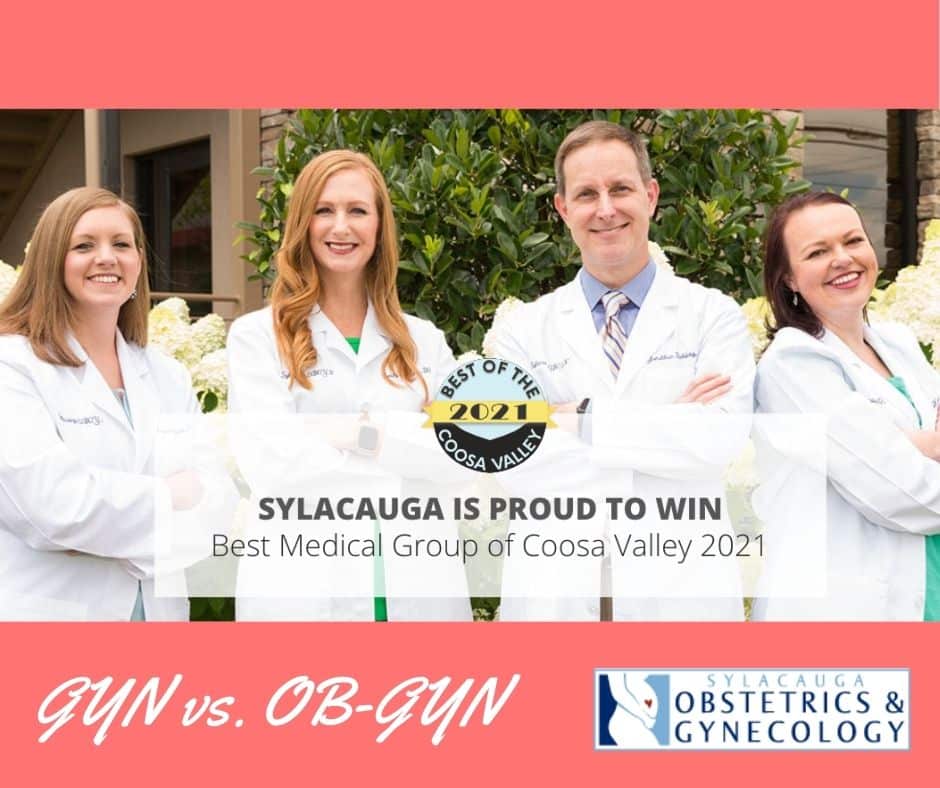 15 Jun

General Gynecology vs. OB-GYN & Why We Provide Both Services

We work hard every day to provide full obstetrics and gynecology women's health services at Sylacauga OB-GYN. We care about the women in our area, also known as the Coosa Valley, and it's truly a privilege that we get to take care of them during all stages of their life as a private, locally owned practice! 

That's why it's such an honor to be voted "Best of the Coosa Valley 2021" Medical Group. Our newest OB-GYN, Dr. Emily McInnis was also voted runner up for best physician.

One thing we find interesting though is that sometimes people are unsure about what exactly it means to be an "OB-GYN." Does this just mean we deliver babies? Do we provide services for teenagers, or women who may be going through menopause? We do deliver babies, but we also do much more than that. We want to provide more information about what exactly we do, what exactly OB-GYN means, and how it's different from a general gynecologist.
General Gynecology vs. OB-GYN
First, some definitions and basics:
Obstetrics (OB) involves care during pre-conception, pregnancy, childbirth, and immediately after delivery.
As obstetricians, both Dr. Rehberg and Dr. McInnis deliver babies, and they can help you have a healthy pregnancy that results in the healthy delivery of your baby. Obstetricians can also provide therapies to help you become pregnant, such as fertility treatments.
Obstetricians are also trained to handle pregnancy complications, such as:
Ectopic pregnancy, in which the fetus grows outside of the uterus

Signs of fetal distress, in which the fetus is not doing well for various reasons

Placenta issues

Preeclampsia

Delivery through Cesarean section

An obstetrician can also help you after you have delivered your baby and are dealing with issues such as postpartum depression.
Gynecology (GYN) involves care of women's health issues.
In addition to all of the above services that they provide as obstetricians, Dr. Rehberg and Dr. McInnis are also gynecologists, meaning they care for patients' reproductive health from the first period all the way to post-menopause. A doctor who is only a gynecologist does not deliver babies or specialize in other aspects of pregnancy.
Any conditions that affect the reproductive system, such as those with the cervix, uterus, ovaries, fallopian tubes, or vagina, are diagnosed and treated by a gynecologist. Gynecologists also perform recommended screenings such as breast exams, pap smears, and pelvic exams. They perform hysterectomies and tubal ligations. A gynecologist can also provide human papillomavirus (HPV) shots to protect against cancer-causing HPV.
A gynecologist may diagnose and treat issues, such as:
Irregular menstruation

Vaginal infections

Conditions that cause pain during sex

Cancers of the reproductive system

Prolapse of pelvic organs

Endometriosis

Cervical and vaginal polyps

Ovarian cysts

Uterine fibroids
So as an OB-GYN, our practice encompasses these two distinct specialties and provides all services involved for both. Because a woman's needs change throughout life, it's important to have doctors who can provide care for them at each step along the way. We are passionate about providing this care to our patients from the first visit at around age 13 all the way up to age 100. 
Through these many years, we work with teens who are starting to go through changes, we see people who need to start birth control, we help with symptoms of PMS, we offer services for pregnancy and family growth, and we see women when they get to the midlife phase, needing help with hormone replacement therapy, cycle changes, and menopause,
Why Choose Sylacauga OB-GYN As Your Practice
It is certainly not uncommon to see practices that specialize in both obstetrics and gynecology. There are many in the Birmingham area that provide both services. So why should you choose Sylacauga OB-GYN over the other options?

Due to the fact that we are locally and privately owned, we are nimble. We can more easily make changes to our practice as it relates to the care of our patients. These changes can happen quickly, and we want to always be in line with the rapid changes of medicine.
Patients also choose us because we are not in Birmingham. You don't have to go to a big city where there's a lot of traffic or confusing one-way streets. We are not located in a huge medical tower where there are 20 OB-GYNs. With us you get a small, personal practice that can provide big city medicine. 
For those who live in the Coosa Valley area that includes Sylacauga, you do not need to drive all the way to Birmingham. We have it all right here. All the services you need as a woman, at any stage of life. We hope you will trust us, as many others in our region have, to be your OB-GYNs throughout all the stages of your life.
LEARN MORE ABOUT WHAT MAKES SYLACAUGA OBSTETRICS AND GYNECOLOGY A TOP PROVIDER
Sylacauga OB-GYN is the premier provider of obstetric and gynecological services in Sylacauga, Alexander City, Talladega, and the surrounding areas. From your first exam to your new little one's delivery, our staff and providers are here to make your journey as smooth as possible. At Sylacauga Obstetrics & Gynecology, we are ready to answer your questions, provide support, and guide your process during your baby's growth! 
No need to drive to Birmingham to receive a superior quality of care for you and your impending bundle of joy. We are big town doctors with small-town care! Check out our website or give us a call at 256-487-9346 for more information or to schedule an appointment. For more information about healthy pregnancies, delivery options, and more, give us a call or email us at [email protected].