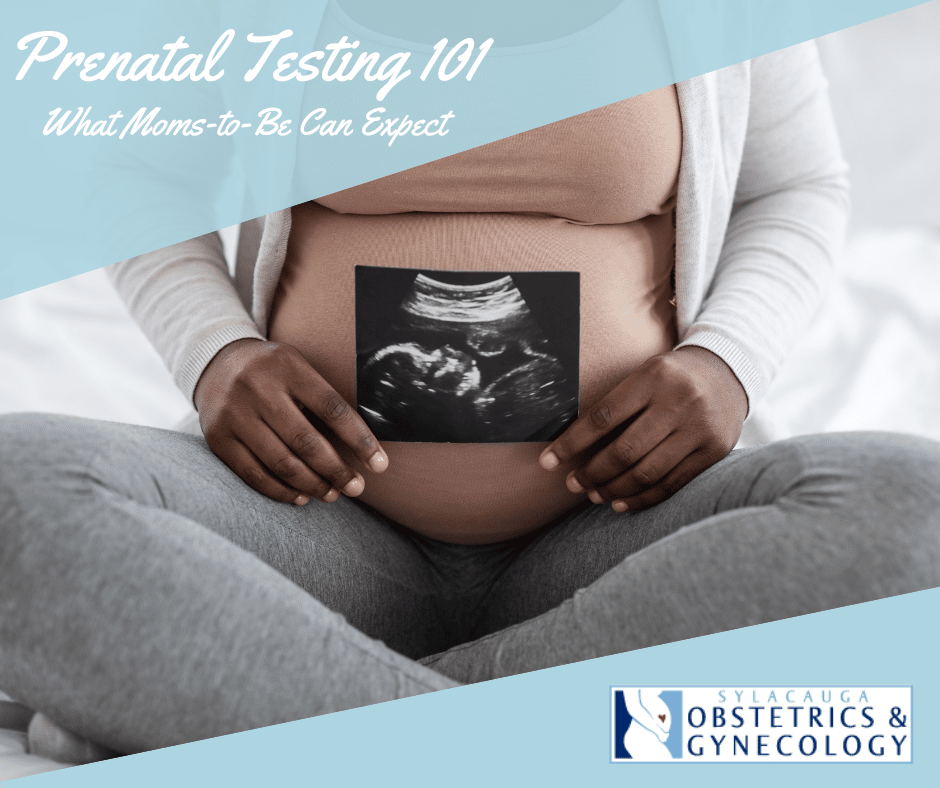 31 Jan

Prenatal Testing 101: What Moms-to-Be Can Expect

Pregnancy is an exciting and nerve-wracking time in any woman's life. Whether you're a first-time mom or adding a new sibling to the mix, each pregnancy is unique, coming with its own set of challenges and rewards. To make sure that this time is as rewarding and healthy as possible, there are a number of prenatal testing methods that can help us monitor your well-being and protect your newest addition.

Sometimes, just the phrase 'prenatal testing' can conjure up anxiety in our patients. We understand that questions about your baby's health and development can be sensitive and sometimes frightening to face. But we're here to help you understand exactly what prenatal testing is, which tests are routine, and what your options are for additional tests. Let's dive in!
Routine Tests in Early Pregnancy
Most women know to expect ultrasounds throughout their pregnancy. But there are several other routine lab tests we perform to get a baseline for you and your baby's health. They're nothing out of the ordinary—mostly, they involve a simple blood draw and a urine sample. These tests may be taken several times throughout your pregnancy.
Complete blood count: Helps us check for anemia, problems with blood clotting, and the strength of your immune system, among other things.
Blood type and Rh factor: Determines your blood type and your baby's, and tells us whether you may need special monitoring for Rh disease throughout pregnancy.
Iron and iron stores levels: Pregnancies require a lot of iron, so we will assess your iron levels several times during a routine pregnancy.
Blood pressure tests: Preeclampsia is a form of very high blood pressure that can cause organ damage, among other serious problems. Because it only develops after week 20, we'll monitor your blood pressure throughout your pregnancy.
Urinalysis & urine culture: Helps us check for infections and understand your protein and blood sugar levels, which can tell us about your risk for preeclampsia or diabetes.
Disease & infection tests: Check your blood for infections that can cause complications during pregnancy, such as rubella, hepatitis, HIV, sexually transmitted diseases, and tuberculosis.
SneakPeek Early Gender Reveal Testing
While not a routine test, we are excited to offer optional SneakPeek early gender reveal testing to our patients in Sylacauga! This non-invasive test uses a small sample of your blood to determine your baby's gender as early as 6 weeks into pregnancy. Learn more about SneakPeek in last month's blog, or give us a call at (256) 487-7783!
Routine Tests in the 2nd and 3rd Trimesters
As your baby grows, we'll continue to monitor his or her health and development. Blood tests and ultrasounds will continue as normal. We will also check your glucose levels and screen you for group B streptococcus (GBS).
Glucose screening: We typically perform this test at 24-28 weeks of pregnancy. You'll drink a sugar mixture, wait an hour, and then give a blood sample to screen for diabetes.
GBS screening: though rare, GBS can seriously harm babies when passed on during delivery. Between 36 and 38 weeks of pregnancy, often during labor, we will use a swab to take a culture from the vagina and rectum to test for GBS. The infection, if present, can be cleared with antibiotics.
Additional Tests We May Perform
In certain circumstances, you and your obstetrician may decide to perform additional tests to check for genetic conditions, birth anomalies, or just to check in on the well-being of your baby. They're not necessary for every pregnancy—and you have a voice in deciding which tests are right for you. We may recommend them for women over 35, women with high-risk pregnancies, or women who have a family history of genetic conditions.
Fetal Non-Stress Test
A fetal non-stress test is so named because it doesn't cause any stress or harm to the baby. It evaluates your baby's heart rate and oxygen supply using a special sensor placed on your abdomen. We typically recommend this test in situations such as:
Multiple fetuses (twins, triplets, etc.)
High-risk pregnancies (you have a condition like diabetes or heart disease)
Post-term pregnancy (you're two weeks past your due date)
A history of complications in other pregnancies
Noninvasive Prenatal Testing (NIPT)
Also called cell-free fetal DNA testing, this test screens for certain genetic conditions and congenital abnormalities. Performed after 9 weeks of pregnancy, this test involves drawing blood. Small pieces of your baby's DNA are isolated from your bloodstream, then screened for risk of anomalies.
This screening test can't say that your baby definitely does have a genetic condition. It can only assess a risk factor—it tells us whether we need to do additional testing. If the screening shows an elevated risk, we'll move on to a Maternal Fetal Medicine (MFM) level 2 anatomy ultrasound.
Maternal Fetal Medicine (MFM) Level 2 Anatomy Ultrasound
An MFM Level 2 ultrasound is what it sounds like—a more advanced and comprehensive ultrasound that provides a higher level of detail about your baby's anatomy. That's why it is sometimes called an anatomy scan or anomaly scan. This ultrasound allows us to not only see the baby's size and position but evaluate various parts of their body for birth anomalies.
With this level of imaging, we can get a detailed picture of the baby's brain and spinal cord, heart, and many other vital organs. We'll also check your amniotic fluid levels, the placenta, and the umbilical cord. This scan helps your provider identify potential problems early on, allowing your delivery team to plan any necessary treatments before or immediately following your baby's birth.
Get Peace of Mind with Prenatal Testing at Sylacauga OB-GYN
Whether your pregnancy goes off without a hitch or you need careful monitoring and support throughout, the compassionate providers at Sylacauga OB-GYN are on your side every step of the way. We'll always explain every test we perform, and give you everything you need to make an informed decision for your family. We have the latest tools and technologies to give your little one the best possible start to life.
If you're searching for an obstetrician that can treat you in the comfort and safety of your own community, reach out to Sylacauga OB-GYN today!
Sylacauga OB-GYN: Advanced Prenatal Care in the Coosa Valley Area
There's no need to stress out on a long drive to Birmingham to get the advanced care and treatment you and your baby deserve. Drs. Rehberg, McInnis, and Surles are proud to serve women in Sylacauga, Talladega, Alexander City, Childersburg, and beyond. Send us a message with questions anytime, or call us at (256) 487-7783 to schedule your first appointment!