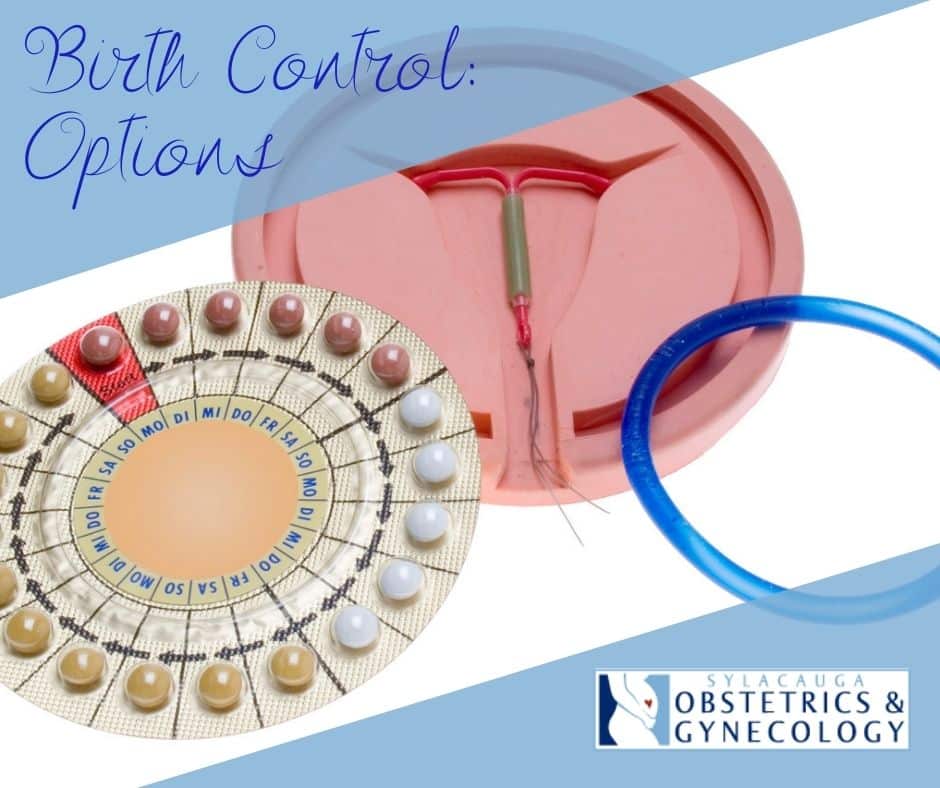 25 Oct

What birth control option is best for me?

By Dr. Emily Allen McInnis

When you decide to use birth control, you'll encounter a dizzying array of options available. Some you may have used before, while others you may not have considered. It's very easy to get frustrated finding the right one because there are so many options out there today.

So we'd like to cut through the clutter and share good, factual information with you to help you educate yourself about the different forms of birth control options (contraceptives). We can then have a good conversation together about exactly which type is best for you on your next visit to Sylacauga OB-GYN, and remove the guesswork and frustration of figuring it out yourself!
First: what are the different types of birth control options?
There are five primary types of birth control options that function differently, depending on what your future reproductive goals are. These options are:
#1: Short-acting hormonal contraceptives
Birth control based on hormones that adjust your body's natural estrogen and progesterone levels to make pregnancy less likely to happen. For example, the birth control pill is probably the most widely recognized form of a short-acting hormonal contraceptive. Other types include weekly patches, monthly depo provera shots, and vaginal rings. 
#2: Long-term contraception
Let's say you know you're not going to want to get pregnant for an extended amount of time. A long-term contraception option is a great choice for you. These long-term options come in the form of IUDs (Intrauterine Devices) or implants (Nexplanon). They can work anywhere from 3-10 years and allow you more freedom – no daily pill to take, for example. Moreover, when you change your reproductive plan and desire to get pregnant, these forms of long-term contraceptives can be removed. 
#3: One-time barrier contraception
This type of birth control creates a "barrier" in the vagina, preventing sperm from reaching an egg. These types of barriers don't even require a prescription, and you can usually pick them up at the local drugstore. Types of one-time barrier contraceptives include cervical caps, diaphragms, sponges, or condoms. Bear in mind that, because you have to use them correctly, their effectiveness is less than other forms of birth control.
#4: Sterilization
Perhaps you've had all the children you intend to have, and you're tired of worrying about contraception. This method is where permanent contraception comes in – tubal ligation for women and vasectomy for men. This option is a very reliable form of contraception; however, you must be confident that you don't want more children going forward.
#5: Emergency contraception
In the event that your form of birth control fails, you may choose to seek emergency contraception. This type of contraception comes in a pill form. One kind of emergency contraception called Plan B is usually available from most pharmacies without a prescription. However, another emergency contraception, called Ella, may require you to get a prescription but is far more effective in preventing a pregnancy from taking place within five days after sex. These two types of emergency contraception are not a primary form of birth control but rather a safe backup if something doesn't go as planned.
Second: what's the right form of birth control for me?
To answer this question for yourself, you have to take some factors into consideration. For example, your age, your lifestyle, how often you have sex, your desire to start a family soon, and side effects that inevitably come with each option. Are you forgetful? A pill you have to take every day may not be the right option for you. If you are over 40, the birth control that worked for you in your 20s and 30s may not be suitable for you now. 
You must remember that every woman's physiology is different. Not everyone will have the same side effects, even if two women are using the exact same type of contraceptive. In addition, you should be wary of "advice" from well-meaning friends or relatives – only you and your doctor can make the choice that's right for your body and your lifestyle. 
Birth control: let's make the decision together
Looking back at all of the options above, it's no wonder why choosing a birth control method can make you crazy! But it doesn't have to be that way. Everyone can find their perfect "fit"!
Birth control has come a long way since the 60s when many modern contraceptives were first introduced. Lower side effects, higher efficacy rates, and safer options are all the benefits of 21st-century science.  
I suggest you schedule some time to come in and sit with me, where we can talk through your options together. As your gynecologist, I know the right questions to ask you and your medical history, so I can guide you through making this decision while taking your unique situation into consideration. Dr. Rehberg is also a qualified, caring, and knowledgeable resource for you. But if you feel more comfortable speaking with a female OB-GYN about this, then let me help you cut through the choices, myths, risks, and fears and help you arrive at the right decision for your body and your lifestyle! 
Make an appointment with Dr. McInnis at Sylacauga Obstetrics & Gynecology today
Your reproductive health is important to you, and it is for me, too. I can consult with you to help you decide which form of birth control best suits your needs based on your reproductive goals. Visit Sylacauga OB-GYN for contraceptives and all other female-related healthcare. Sylacauga OB-GYN is your small-town doctor with big-city medicine! Reach out to us today here or at 256-249-6995.