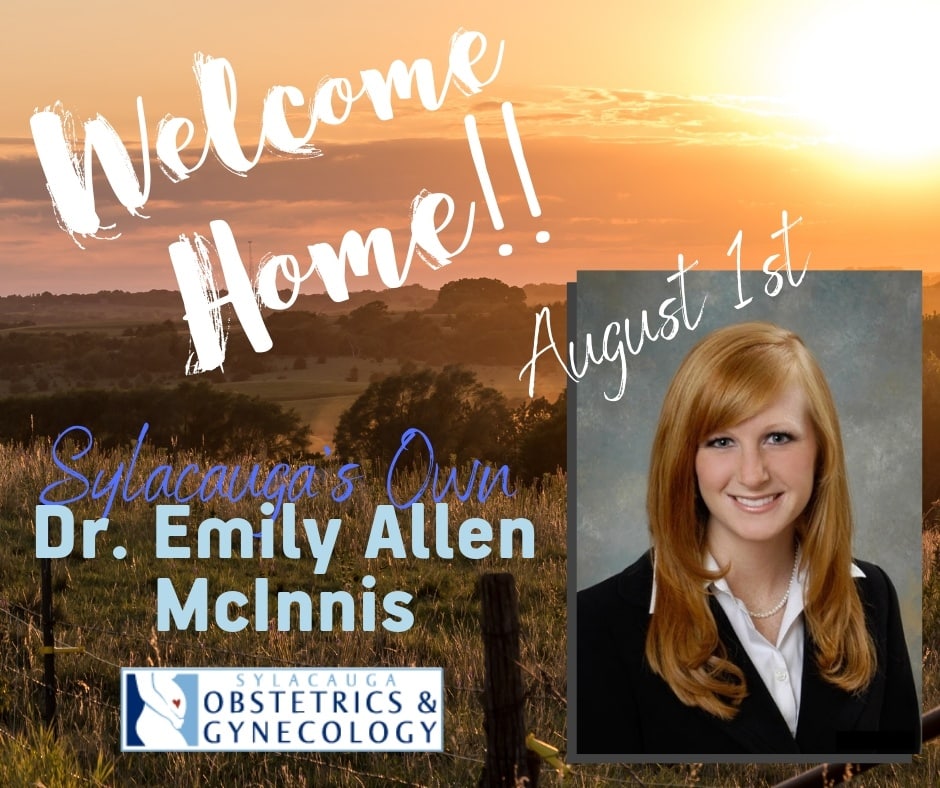 16 Jul

Sylacauga OB-GYN Welcomes Dr. Emily Allen McInnis

Sylacauga OB-GYN is proud to welcome a new physician to our already stellar team! Dr. Emily Allen McInnis is an OB-GYN who will begin taking patients this August! This great addition to our team is just another reason why Sylacauga OB-GYN is the top provider of women's healthcare in the five-county area.
Meet Dr. Emily Allen McInnis
Dr. Emily Allen McInnis grew up in Sylacauga, Alabama. She went to Sylacauga High School, and her entire family lives in the area. She moved away from home after high school to follow her dream of helping people by becoming a doctor. After attending Auburn University for her undergraduate studies, she went on to attend medical school at the Edward Via College of Osteopathic Medicine in South Carolina. Dr. McInnis graduated from medical school in 2015 and went on to complete her four-year residency at the University of Mississippi Medical Center.
A passion for helping people
Dr. McInnis's journey to becoming an OB-GYN is an interesting one. At first, Dr. McInnis was not interested in obstetrics and gynecology. When she began school at Auburn University, she was sure she wanted to pursue plastic surgery. But after her first week in an OB-GYN clerkship, she helped deliver her first baby, and it changed her life forever.
"I realized right then that this is what I want to do forever." Dr. McInnis says, "It is exciting and fun, and this is the only field of medicine where you are taking care of people from adolescence through menopause. You have a relationship with your patients like no other field."
For Dr. McInnis, the most important thing is her relationship with her patients. She emphasizes how much she wants to be a part of their lives and for them to trust her completely. Through the good times and the bad times, Dr. McInnis will be there for her patients.
"You get to be there and celebrate the happiest moments in their lives when they bring a new life into the world," says Dr. McInnis, "but you are there for them in the hardest times as well, like when you tell someone they have gynecological cancer or need an emergent surgery or hysterectomy." During those hard times, Dr. McInnis says you have to be honest and blunt with your patients while letting them know you care and you are there for them. Dr. McInnis says, "The ability to demonstrate your intellect as a physician while being personable and kind is what makes a good OB-GYN."
Dr. McInnis enjoys the variety and the unique challenges presented by her chosen field, and she dedicates herself to helping the women in her community. She says, "I don't want just to be their doctor; I want to be their friend, someone they can turn to. I don't want to be one of those people that they're scared to ask questions because they're too nervous."
First female OB-GYN in Sylacauga
Dr. McInnis takes pride in being a woman in medicine. She will be the first female physician specializing in obstetrics and gynecology in Sylacauga. "It's an honor to go back to my hometown and treat women who I have a relationship with," says Dr. McInnis. She will be joining a team at Sylacauga OB-GYN that already includes two very skilled women, Kyndra Wright (NP) and Lauren Littleton (PA).
Many women in Sylacauga and the surrounding five-county area are going to be thrilled to have a female OB-GYN nearby. Dr. McInnis points out that "sometimes It's easier for a female OB-GYN to be able to relate to women and to have your patients to relate to you as a woman because you might be dealing with some of the same things they might be going through."
However, Dr. McInnis wants to make sure her patients see her as their OB-GYN of choice, and not just as a woman. She emphasizes, "I want them to see me as someone they can trust and wants to take care of them – someone they can look up to and come to for advice."
She is excited to be one of the first female surgeons at the hospital in Sylacauga as well. "It will be a growing experience for everyone," she says, "but I'm excited to pave the way in that area."
Returning Home
Dr. Emily Allen McInnis chose to return home to Sylacauga after twelve years so that she could make a difference where it mattered most. She says, "I chose to move back to Sylacauga and practice medicine because it is rewarding to treat women who taught me in kindergarten and taught me in high school and to deliver babies for the girls I grew up knowing. It is rewarding to go back and take care of the women who helped me become who I am today."
Dr. McInnis is a Sylacauga local through and through, and she is thrilled to be coming home after so many years. "It's great to move back home," she says, "I feel like I've missed out on so many life events. My whole family lives here, and I'm excited to be able to be there for holidays and other big events."
Dr. McInnis returned home to Sylacauga with her supportive husband, Ryan, and their adorable ten-year-old Yorkie named Brady. About her husband, she says, "We were married about a year ago in April 2018. He has moved homes, jobs, and away from his entire family for me, and I am so grateful for his commitment and support!"
She often visits her parents at their house on Lake Martin where they spend time hanging out on their boat and enjoying the sunset. She loves being outside, even if she's only sitting on the porch.
Joining the team at Sylacauga OB-GYN
Dr. McInnis will be taking appointments starting in August 2019. She is joining a fantastic team, including Dr. Rehberg, Kyndra Wright (CRNP), and Lauren Littleton (PA-C). It took a little time for Dr. McInnis to decide what practice she wanted to join, but deep down, she knew where she wanted to be all along.
"I did a medical school rotation with Dr. Rehberg when I was in medical school before I even knew I was going to do OB-GYN," Dr. McInnis explains. "I loved it and loved his staff and his personality. He is going to be a great partner." During her first rotation, Dr. McInnis didn't know she was going to choose obstetrics and gynecology. She was introduced to Dr. Rehberg through a family friend that worked for the hospital at the time when she needed a rotation to do. She ended up enjoying her time with Dr. Rehberg, who also trained at the University of Mississippi, where she did her residency.
"I signed with him my second year of residency," Dr. McInnis explains. "He'd always put it out there for me, trying to talk me into coming back. Finally, one of those days I realized he has a great practice and has the respect of the community, employees of the hospital, and all of his staff, and that speaks volumes – what I see by the actions of his staff and colleagues. I prayed about it and decided it was a good move to join Dr. Rehberg and his staff. I hope I can gain the same respect."
---
Learn more about what makes Sylacauga Obstetrics and Gynecology a top provider
Sylacauga OB-GYN is the premier provider of obstetric and gynecological services in Sylacauga. We are accessible to patients from Clay County, Coosa County, Randolph County, Tallapoosa County, and Talladega County. Give us a call at 256-249-6995 for more information or to schedule an appointment.