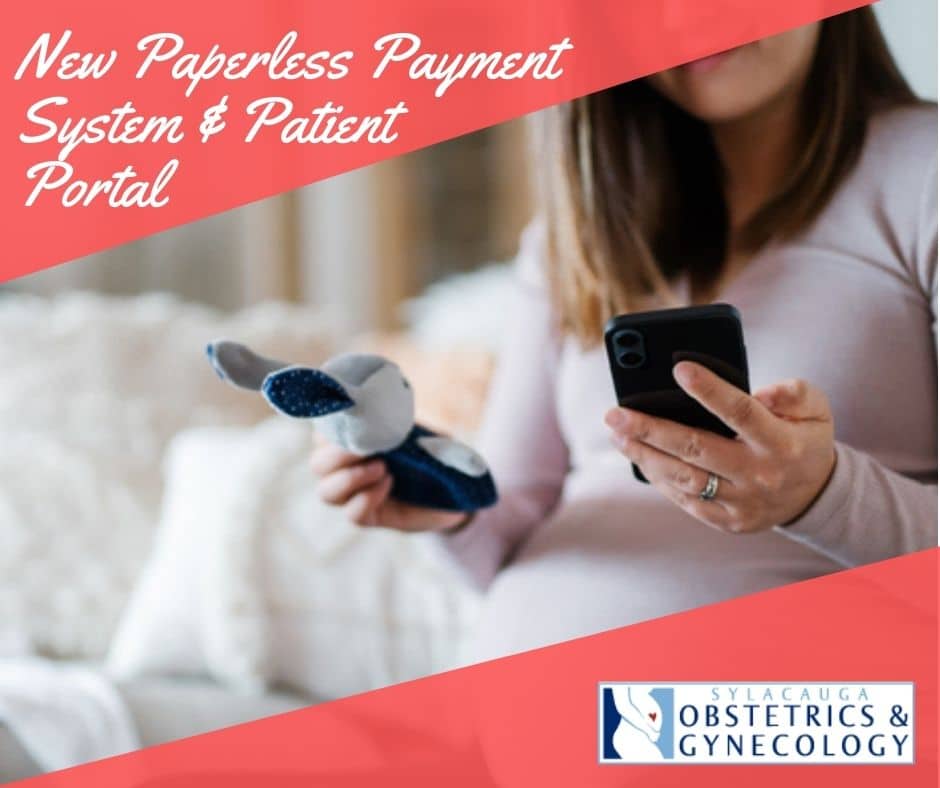 18 Jan

Sylacauga OB-GYN Goes Paperless in 2022

No matter what kind of technology we're talking about, it's important to us at Sylacauga OB-GYN that we're at the forefront of the latest advancements. This may mean adopting technology such as the movie-like experience of a 4D ultrasound, our after hours call system, or our electronic medical records (EMR) system.

In 2022, we are expanding on this EMR system and going paperless with a new payment system and patient portal called healow Payment Services by eClinicalWorks. We are really excited about this change and how it will benefit our patients. Read on for more information, including some FAQs answered by Dr. Rehberg.
FAQs About Our New Paperless Payment System
Traditionally, practices like ours have relied on printing and mailing statements to patients. But in today's world, this approach is outdated and has many pitfalls.
With our new system, the patient portal provides a secure communication channel that allows you to be proactive in the management of your own and your family's health. You can pay your medical bills online, review your personal health records, view lab results, request refills of authorized prescriptions, view upcoming appointments, request referrals, and more.
The payment portal is fully integrated with the healow app where you can access the patient portal securely anytime, anywhere.
Here are some common questions we've received with answers provided by Dr. Rehberg:
Will I receive a bill in the mail? 
We will not be sending paper statements, which is why we are calling this a change to a "paperless" payment system. However, statements will be easily accessible in the patient portal.
Why are you making this change, and why now?
There are several reasons, mostly related to cost and value. As you probably know, USPS just raised rates and simultaneously said first class mail will take longer than usual to be received. These factors aren't good for us as a practice or you as a patient. Also, eClinicalworks, our popular EMR that has excellent functionality is ready to accommodate this move for us. When these new options become available, I always jump on them and get the best technology up and running quickly.
How will this change benefit patients?
There won't be any more issues with statements getting lost in the mail since we won't be dependent on the USPS for sending statements or making payments. Instead, you can easily make payments through the patient portal.
Will I have to do anything differently?
As mentioned, you won't receive a paper statement or send back payments, but we think this will make life easier for you. You will receive notifications via text or email about your balances, and you'll have various options for making payments.
Enjoy a Paperless Payment System at Sylacauga OB-GYN
We like to keep up with the latest technology, and if we think a change will be good for our patients, we pursue it. Our change to paperless payments in 2022 will be great for everyone, and we're excited for you to see the benefits. It's good technology, and it's easy to use. Just like when you order from Amazon, you'll click, pay, and we receive! 
LEARN MORE ABOUT WHAT MAKES SYLACAUGA OBSTETRICS AND GYNECOLOGY A TOP PROVIDER
Sylacauga OB-GYN is the premier provider of obstetric and gynecological services in Sylacauga, Alexander City, Talladega, and the surrounding areas. From your first exam to your new little one's delivery, our staff and providers are here to make your journey as smooth as possible. At Sylacauga Obstetrics & Gynecology, we are ready to answer your questions, provide support, and guide your process during your baby's growth! 
No need to drive to Birmingham to receive a superior quality of care for you and your impending bundle of joy. We are big town doctors with small-town care! Check out our website or give us a call at 256-487-9346 for more information or to schedule an appointment. For more information about healthy pregnancies, delivery options, and more, give us a call or email us at [email protected].