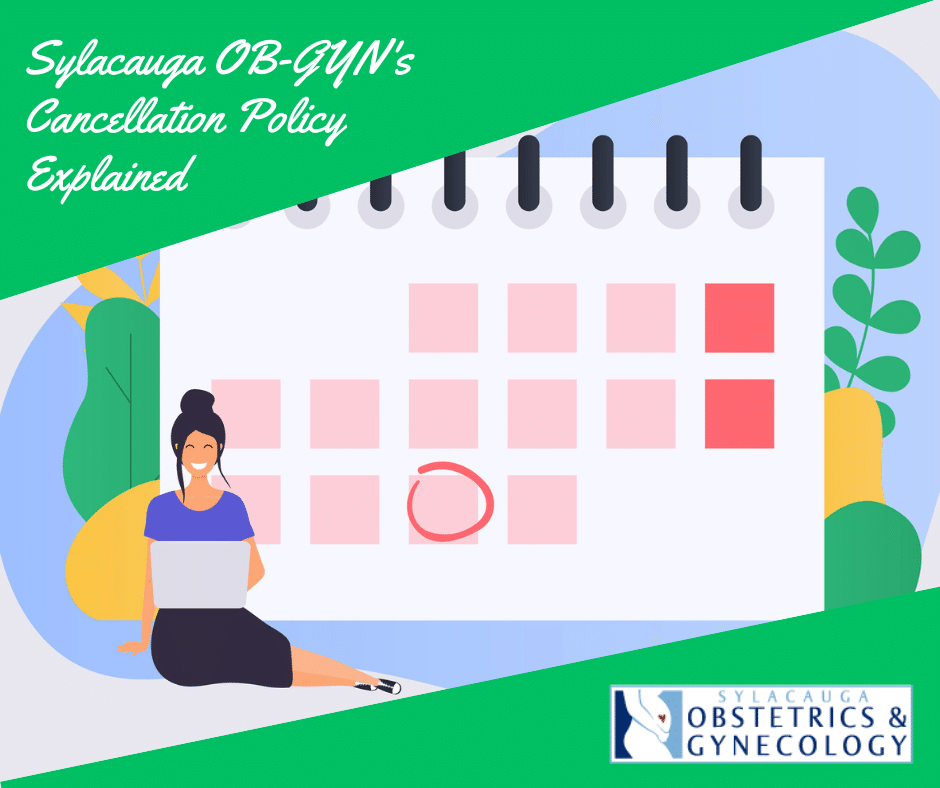 14 Jun

Is it Okay to Cancel a Doctor's Appointment? Why Cancellation Matters!

We've all been there before: you scheduled your annual gynecological exam last year for the same time as always. But that was before your kid joined summer extracurriculars, or you came down with the flu, or you got assigned to that particular shift at work. Now, you're getting an appointment reminder in the middle of a busy day and you think "I'll just make another appointment later." But when things like this happen, you may wonder—is it okay to cancel a doctor's appointment?

At Sylacauga OB-GYN, we respect our patients' busy lives, and we understand that things come up and interfere with scheduled plans. But it's precisely because we respect your time that we ask all of our patients to let us know in advance if they need to cancel an appointment.

That's also why we want to explain our cancellation policy, which is designed to enhance the experience of all our patients—even when life inevitably throws a wrench in things.
Sylacauga OB-GYN's Cancellation Policy
Our office has implemented a no-show policy to underscore the importance of attending your appointment—or canceling it with at least 24 hours' notice.
If you have three or more no-show appointments within a 12-month (one-year) period, you can no longer be seen at our clinic. That means you will no longer be a patient at Sylacauga OB-GYN.
At this time, we have chosen this path rather than charging cancellation fees because we understand that sometimes, emergencies simply happen. But a pattern is different from an emergency, and protecting our other patients' valuable time is highly important to us.
Cancellation Policy & Appointment FAQs
What counts as a no-show appointment?
A no-show appointment is when you miss your scheduled appointment and don't let anyone at our office know. It's like missing a shift at work and not calling your boss to explain. You can avoid getting a no-show on your record by canceling or rescheduling your appointment before the date and time you're scheduled to arrive.
How do I cancel my appointment?
You can cancel or reschedule by:
We strongly prefer to have at least 24 hours' notice; however, any advanced notice is better than none at all.
Why does it matter if I miss an appointment?
Missing a scheduled appointment may not impact you, but it certainly impacts others. This is especially true in an OB-GYN clinic, where procedures and surgeries may take longer than anticipated, emergencies do occur and, thankfully, babies are born! If a doctor is waiting for you and you never show up, that's valuable time they could have spent answering another patient's questions, mitigating other delays, or responding to emergency needs.
At Sylacauga OB-GYN, we're proud to bring world-class women's healthcare to the heart of the Coosa Valley Area. But to offer the kind of big-city care with small-town values that we care so much about, we need everyone to work together. Simply put, no-show appointments hurt everyone—doctors, staff, and your own neighbors who are seeking care.
Have Questions? Please Get in Touch!
Communication is key to any doctor-patient relationship, and we're committed to helping you stay informed. If you can't remember when your next appointment is coming up, you can use one of our online tools, like our Healow app. If you have more questions about our office policies, our practice, or our services, our staff is more than willing to help over the phone or through a secure patient portal message.
And when emergencies do arise, just reach out to our team however you can. We'd much rather work with you to reschedule your appointment than wonder why we never heard from you!
Sylacauga OB-GYN: Providing World-Class Women's Services to the Coosa Valley Area
Dr. Rehberg, Dr. McInnis, and Dr. Surles are proud to serve women in Sylacauga, Alexander City, Talladega, and beyond with first-rate obstetrics and gynecological care. We strive to forge meaningful doctor-patient relationships with every client, and are here to bring the highest quality healthcare services to the comfort of your hometown! We're accepting new patients now, so call (256) 510-7163 or send us a message online to request your first appointment.