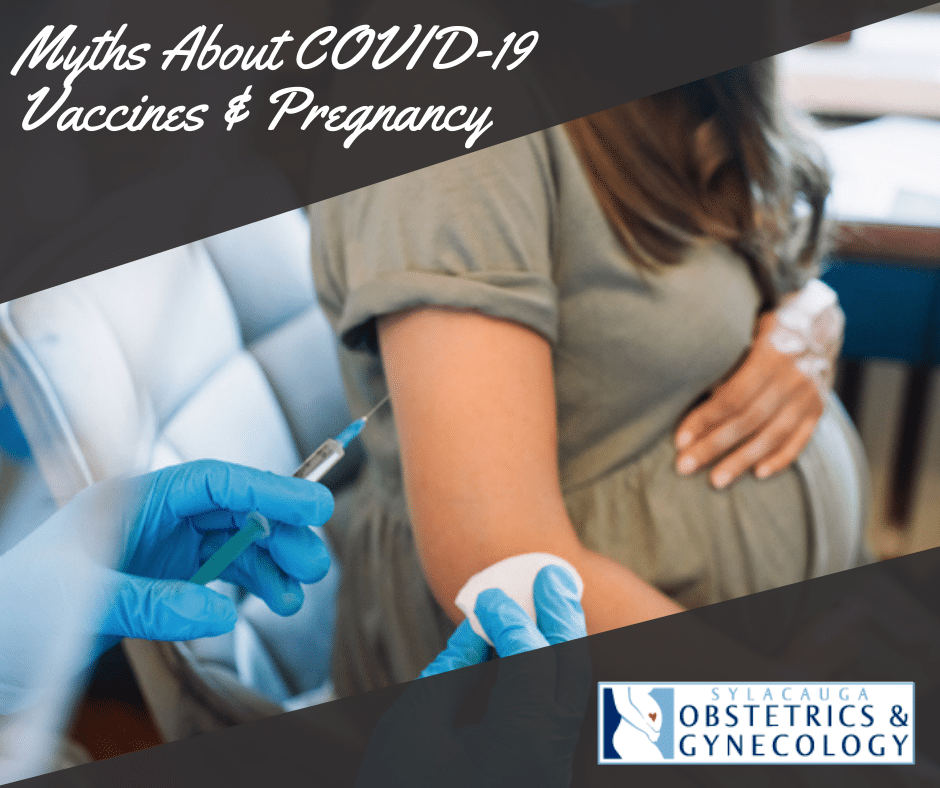 31 Aug

Myths About COVID-19 Vaccines & Pregnancy

At Sylacauga OB-GYN, we are very passionate about educating our patients and others about the COVID-19 vaccine and pregnancy. Dr. McInnis has been very open and candid about her experience receiving the vaccine while pregnant and the fact that her antibodies transferred to her baby boy.

There are many good reasons to get the vaccine while pregnant, but we know that many of you like to do your own research and to see the science behind everything. 

Below, we are offering many resources with research-based, professional, reliable information. This includes several myths followed by titles of articles that disprove those myths as well as a little information explaining the findings. This is a starting point for those who want to know more. 
Myth: mRNA Vaccine Attacks Placenta 
Came from German epidemiologist Wolfgang Wordog (now discredited) 
Lu-Culligan, A. & Iwasaki, A. The False Rumors About Vaccines That Are Scaring Women. New York Times (26 Jan 2021) LINK
Human placental protein syncytin 1 does not have cross-reactivity with mRNA vaccine antibodies, if such cross-reactivity did occur, all persons vaccinated and who had natural infections would be expected to be associated with this placental pathology/sterility. In this article, researchers compared the coronavirus spike protein to placental syncytin-1 and found no notable similarity between their amino acid sequences. They also analyzed serum from women with COVID-19 and did not detect any reaction between patients' antibodies and the syncytin-1 protein. 

COVID-19 vaccine and infertility: baseless claims and unfound social media panic. Evans et. al ASRM Jan 19, 2021 LINK
Demonstrated that SARS-CoV-2 surface glycoprotein and syncytin-1 do not share amino acid sequences and do not code for the same protein that the COVID-19 vaccine does

SARS-CoV-2 spike protein seropositivity from vaccination or infection does not cause sterility. Morris et. al. F&S Reports 2 June 2021. LINK
Frozen embryo transfer as a model for comparing the implantation rates between SARS-CoV-2 vaccine seropositive, infection seropositive and seronegative women

Only Pfizer and Moderna vaccines were used in this study. 

Included 171 frozen embryo transfers with 28 patients requiring multiple transfers so 143 transfers were analyzed. 

Embryo implantation was not significantly different between the groups 73.9% (seronegative) vs. 80% (vaccine seropositive) and 73.7% (infection seropositive)

And sustained implantation rate was also not significantly different at 52.3% vs. 65.7% vs. 47.4%. Thus, concluding that seropositivity to SARS-CoV-2 spike protein whether from vaccination or infection does not prevent embryo implantation or early pregnancy development. 

Found no difference was found in serum hCG, documented implantation rates, or sustained implantation rates between the 3 groups, supporting that COVID-19 vaccines or illness cause female sterility are unfounded.

Myth: COVID Vaccines Change Your DNA

Advances in mRNA Vaccines for Infectious Diseases Zhang et al. Front. Immunol. 27 March 2019. LINK
Essentially proved vaccines do not enter the nucleus and do not alter human DNA in the vaccine recipients so they can not cause any genetic changes 

Myth: mRNA Vaccines Increase Risk of Spontaneous Abortions

Receipt of mRNA COVID-19 vaccines preconception and during pregnancy and risk of self-reported spontaneous abortions, CDC v-safe COVID-19 Vaccine Pregnancy Registry 2020-21 LINK
Spontaneous abortion in high-income countries about 11-16% at baseline

2,456 pregnant persons who received at least one dose of mRNA COVID-19 vaccine preconception or prior to 20 weeks' gestation the cumulative risk of spontaneous abortion was 12.8-14.1%

Did not include J&J vaccin; 52.5% received Pfizer and 47.3% received Moderna

Singleton pregnancy only 

35 participants self-reported pregnancy loss prior to 6 weeks and were excluded 

78.3% non-Hispanic white, 88.8% identified as healthcare personnel, 49.1% aged 30-34 years old

These data suggest receipt of an mRNA COVID-19 vaccine preconception or during pregnancy is not associated with an increased risk of spontaneous abortion 

Preliminary Findings of mRNA Covid-19 Vaccine Safety in Pregnant Persons. Shimabukuro et al. NEJM April 21, 2021 LINK
VAERS reporting included 827 completed pregnancies with 86.1% live births with no neonatal deaths which is similar to calculated proportions in pregnant women pre pandemic

Statistics On Pregnant Women with COVID

The Impact of COVID-19 on pregnancy outcomes: a systematic review and meta-analysis. Wei et al. Mar 19. 2021 LINK
Meta-Analysis including 42 studies involving 438,548 pregnant people

Compared with no COVID infection in pregnancy, COVID infection was associated with increased odds ratio of preeclampsia (OR 1.33), preterm birth (OR 1.82) and stillbirth (OR 2.11)

The Differences in Clinical Presentation, Management, and Prognosis of Laboratory-Confirmed COVID-19 between Pregnant and Non-Pregnant Women: A Systematic Review and Meta-analysis. Khan et al. Int J Environ Res Public Health 2021 May 24. LINK
9 studies with 591,058 women (28,797 pregnant and 562,261 non-pregnant)

Relative risk of ICU admission (RR 2.26), and mechanical ventilation (RR 2.68) significantly higher among pregnant women with COVID-19 compared to non-pregnant women with COVID-19

Clinical manifestations, risk factors and maternal and perinatal outcomes of coronavirus disease 2019 in pregnancy: living systematic review and meta-analysis. Allotey et al. BMJ Sept. 1, 2020. LINK
192 studies reported rates, clinical manifestations (symptoms, laboratory, and radiological findings), risk factors, and maternal/perinatal outcomes in pregnant and recently pregnant women with suspected or confirmed COVID-19.

The odds of admission to ICU (OR 2.13), invasive ventilation (2.59), and need for ECMO (2.02) were higher in pregnant/recently pregnant women with COVID than non-pregnant women with COVID.

Pregnant women with COVID compared to women who did not have COVID, had increased odds of maternal death (OR 2.85), of needing ICU care (OR 18.58), and preterm birth (OR 1.47)

The odds of admission to neonatal intensive care unit (OR 4.98) were higher in babies born to mothers with covid-19 versus those without COVID-19.

In conclusion, pregnant women with COVID-19 versus without COVID-19 are more likely to deliver preterm and could have increased risk of maternal death and of being admitted to the ICU and their babies are more likely to be admitted to the neonatal unit. 

Statistics on Neonates With Moms Who Had COVID

Association of Maternal SARS-CoV-2 Infection in Pregnancy with Neonatal Outcomes. Norman et al. JAMA April 29, 2021 LINK
88,159 infants delivered by mothers who tested positive for COVID

COVID infection in pregnancy was significantly associated with higher risk of any neonatal respiratory disorder (2.8% vs. 2.0% OR 1.42) and hyperbilirubinemia (3.6% vs. 2.5% OR 1.47)

No significant difference in mortality (0.30% vs. 0.12%) or length of neonatal care (median 6 days in both groups)

Demonstrated that COVID infection in pregnancy was associated with small increases in neonatal morbidities 

Protect Yourself & Your Baby
We are very passionate about educating all pregnant women that the COVID-19 vaccine is a safe and effective way to protect you and your baby through shared antibodies. Prevention is key, but for anyone who is pregnant that does become infected with COVID, we are offering monoclonal antibody treatments at our clinic. Please don't hesitate to contact us with questions about either of these options.
LEARN MORE ABOUT WHAT MAKES SYLACAUGA OBSTETRICS AND GYNECOLOGY A TOP PROVIDER
Sylacauga OB-GYN is the premier provider of obstetric and gynecological services in Sylacauga, Alexander City, Talladega, and the surrounding areas. From your first exam to your new little one's delivery, our staff and providers are here to make your journey as smooth as possible. At Sylacauga Obstetrics & Gynecology, we are ready to answer your questions, provide support, and guide your process during your baby's growth! 
No need to drive to Birmingham to receive a superior quality of care for you and your impending bundle of joy. We are big town doctors with small-town care! Check out our website or give us a call at 256-487-9346 for more information or to schedule an appointment. For more information about healthy pregnancies, delivery options, and more, give us a call or email us at [email protected].