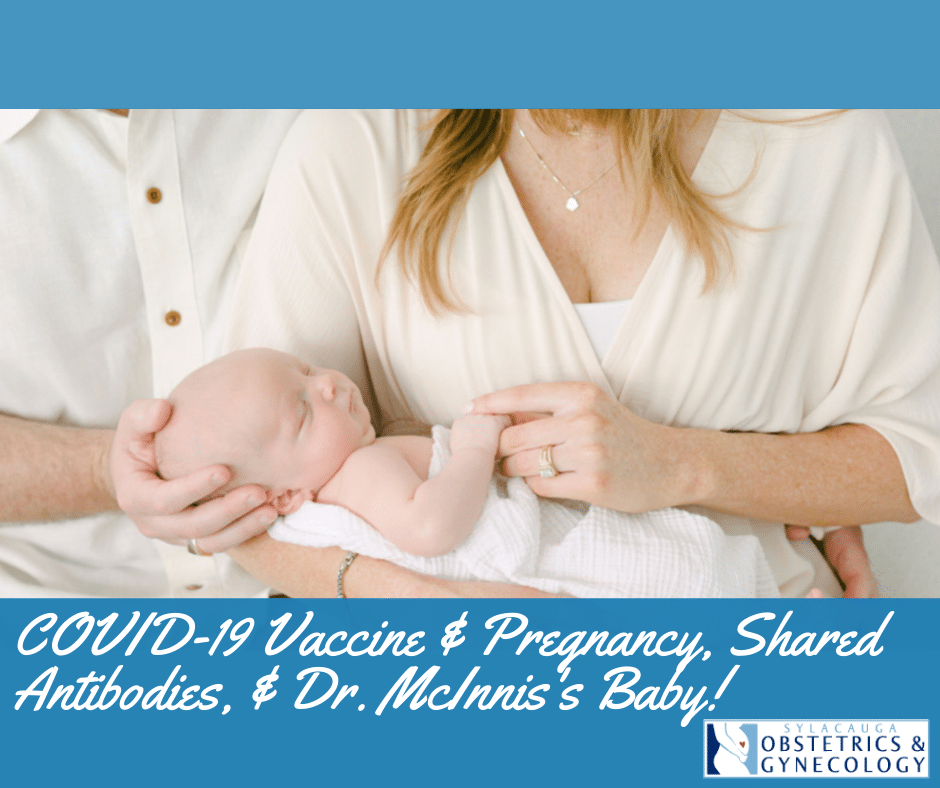 31 Aug

COVID-19 Vaccine During Pregnancy, Shared Antibodies, & Dr. McInnis's Baby!

By Emily A. McInnis, D.O.

Recently, I shared that I was expecting a baby and that I had received the COVID-19 vaccine in this blog post on our website. I am so happy to update that I have a beautiful baby boy! Be sure to check our website again soon to read more about my experience delivering at Coosa Valley Medical Center.

In the meantime, another thing I am really excited to share is the fact that our baby has antibodies to COVID-19 as a result of me receiving the vaccine when pregnant!

I know that many of our patients at Sylacauga OB-GYN have been very interested in this topic and still have many questions and concerns, so I want to share more about our experience and provide helpful resources as well. To find more in-depth information about common myths that have been disproven, see this blog post.
More About Dr. McInnis's Experience 
I was very hopeful that the vaccine would transfer immunity to my baby, and I am so thankful that I received the vaccine when I did. It provided enough time for antibodies to form and transfer to my baby boy so they could develop in his system as well. I would do it over again in a heartbeat in order to do anything possible to try to protect him from this virus. 
A few months ago when I received the vaccine (I received Pfizer), there was not a lot of data on the transmission rate to newborns. Now, we fortunately have plenty of data proving that the vaccine causes an immune response in mothers, breastmilk, and cord blood, which transmits protection through the placenta.
I am even more thankful to be vaccinated now that the number of pregnant women infected with COVID-19 has risen in the past several weeks. Some are ending up on the ventilator in the ICU and having to have a severely premature delivery. This is even happening in otherwise healthy individuals with no comorbidities. The increased circulation of the highly contagious Delta variant, the low vaccine rates among pregnant people, and the increased risk of severe illness and pregnancy complications related to COVID-19 infection among pregnant people make vaccination for this population more urgent than ever. 
Finding Out the Baby Has Antibodies
I found out that my baby had antibodies at our two-week pediatrician appointment. It was a simple heel prick test that took about 15 minutes to run. It has a control line, and then a line that darkens if the sample is positive for IgG and/or IgM. We were positive for IgG, which is the anticipated response after the vaccine. 
I requested the test for my baby to have peace of mind, and to see if the vaccine did its job! I am sure that all pediatric offices have their own rules and guidelines, so I would suggest contacting your pediatrician for specifics on how and when to test your baby if you are interested. 
Do remember though that the antibody response increases in mom throughout pregnancy, so if you were vaccinated only a short time before delivery, you may not be able to appreciate a positive IgG antibody test. However, antibodies will continue to pass to the baby through breastmilk if you decide to breastfeed, so it is still encouraged to vaccinate no matter how far along you are in pregnancy. 
Safety Updates About COVID-19 Vaccines & Pregnancy
A new CDC analysis assessed vaccination early in pregnancy and did not find an increased risk of miscarriage among nearly 2,500 pregnant women who received an mRNA COVID-19 vaccine before 20 weeks of pregnancy. Miscarriage typically occurs in about 11 to 16% of pregnancies, and this study found miscarriage rates after receiving a COVID-19 vaccine were around 13%, similar to the expected rate of miscarriage in the general population. Find more information from this analysis here.
For those women who assume that having COVID previously means that you don't need the vaccine, a study by Harvard found that higher levels of COVID antibodies were observed in all vaccinated pregnant women compared with pregnant women with a natural infection. Booster vaccines resulted in even more of an increase of IgG levels in the blood, translating to transfer of increased levels of IgG to the neonate through the placenta and breastmilk. (Gray KJ, Bordt EA, Atyeo C, et al. Coronavirus disease 2019 vaccine response in pregnant and lactating women: a cohort study. Am J Obstet Gynecol 2021)
A published study in the August 2021 ACOG Green Journal states that we now know that the earliest detection of antibodies in pregnant women occurs five days after the first dose of the COVID vaccine and the earliest detection of antibodies in cord blood (for transplacental transfer) occurs 16 days after the vaccine. Amazingly, 99% of cord blood samples from women who received both vaccine doses had detectable IgG antibodies by four weeks after their first vaccine dose. Maternal IgG levels were significantly higher week by week, starting two weeks after the first vaccine dose. 
Of note, placental examination in women with the vaccination showed no increased incidence of decidual arteriopathy, fetal vascular malperfusion, or low grade inflammation compared with women in the unvaccinated group. 
More Compelling Reasons to Consider the Vaccine While Pregnant
I think knowing that antibodies do pass to babies is definitely the MOST important reason to consider getting the COVID-19 vaccine if you are pregnant! I did this mainly for my baby, but you should also consider the protection for yourself. 
Remember that babies are susceptible to anything and everything in the first two months of life before they receive their routine vaccinations. Their little immune systems are so immature in the beginning that they are unable to fight off the bugs and viruses that adults can easily defend against. Particles that would hardly bother us that we fight in the environment on a daily basis could have a lasting effect on their weak immune systems with more severe consequences. 
My child having antibodies makes me feel better in the sense that if he is exposed to COVID, especially in these first few months, his body will be able to recognize and fight the virus even though his immune system is brand new. This is because of the antibodies that have passed through me to him via the vaccine. 
Of course, the longer that this virus is around and the more it mutates, there are possibilities of variants forming such as the new Delta variant. While the vaccine that I received may not have passed on immunity to these specific new variants, it seems that vaccinated moms/babies are not nearly as symptomatic as those who are not vaccinated in the event that they do contract COVID.  
Another Possible Option for Protection: Clinic-Based Antibody Therapy
I want to stress that the main way to control this virus is to prevent it from becoming a problem through vaccination. Prevention through the vaccine is definitely the most efficient option to allow your body to make its own antibodies to fight COVID. 
However, for those who continue to oppose vaccination, there are therapies available to you. Monoclonal antibody infusions act similarly to the vaccine. But instead of teaching the body to recognize a foreign invader through the creation of antibodies with your own immune system such as in vaccinated patients, monoclonal antibodies are a way to provide immediate protection for those exposed or affected by simply infusing lab generated antibodies.
We have recently started offering monoclonal antibody infusions and subcutaneous injections (REGEN-COV) through our clinic. The subcutaneous injections are offered right in the office. For the IV infusion you will be treated at the hospital as an outpatient. These monoclonal antibody infusions have been proven to be safe in pregnancy and are very effective. These are especially helpful for those who cannot develop or maintain an adequate immune response after vaccination.
Treatment with monoclonal antibodies should be given as soon as possible after a positive COVID-19 test and within 10 days of symptom onset; or as soon as possible after exposure to an individual infected with COVID-19. This is only a treatment for non-hospitalized patients who are not on oxygen therapy. 
Sylacauga OB-GYN Is Here For You & Your Baby No Matter What
I want to stress again how thankful I am that I received the COVID-19 vaccine while pregnant and that the antibodies my body created passed on to my baby. There are so many opinions out there about this virus and the vaccine, but I think we can all agree that protecting our children in any way we can is extremely important. You can do this through vaccination first and foremost and with antibody therapy if you do become infected with COVID.
For many more resources and information, see this post that includes extensive information about safety and data related to COVID-19, vaccines, and pregnancy.
LEARN MORE ABOUT WHAT MAKES SYLACAUGA OBSTETRICS AND GYNECOLOGY A TOP PROVIDER
Sylacauga OB-GYN is the premier provider of obstetric and gynecological services in Sylacauga, Alexander City, Talladega, and the surrounding areas. From your first exam to your new little one's delivery, our staff and providers are here to make your journey as smooth as possible. At Sylacauga Obstetrics & Gynecology, we are ready to answer your questions, provide support, and guide your process during your baby's growth! 
No need to drive to Birmingham to receive a superior quality of care for you and your impending bundle of joy. We are big town doctors with small-town care! Check out our website or give us a call at 256-487-9346 for more information or to schedule an appointment. For more information about healthy pregnancies, delivery options, and more, give us a call or email us at [email protected].