16 Nov

Top 5 Tips for Holiday Pregnancy: Your Questions Answered

There's something magical about the holiday season that makes people happy. It's a time of year filled with joy, happiness, and generosity—a time for celebrating family and togetherness. In fact, a 2015 study revealed that people are instantly more cheery when they see Christmas-themed photos.

The holidays are also an excuse for many people to take a break from good habits and healthy diets and spend weeks eating, drinking, and celebrating to their hearts' content. But if you're pregnant, there's much to consider and be careful about.

Holiday pregnancy is great because you are surrounded by happy people, friends and family, and a very positive atmosphere. However, between the stresses of getting everyone together to the temptations of indulgences, it's important to plan ahead to protect the wellbeing of you and your greatest gift.
Top 5 Holiday Pregnancy Tips for a Merry & Bright Season
Have specific questions? Need some peace of mind before you start traveling? Call Sylacauga Obstetrics and Gynecology at (256) 510-7163 to schedule a thorough consultation, and check out these best practices for women who are pregnant during the holiday season.
1. Be Mindful of What You Eat
Pregnant women can eat most food but in moderation. If you have gestational diabetes or are at risk for it, it's important to eliminate or reduce your sugar and carbohydrate intake. That may mean limiting your holiday treats to a select few favorites and being mindful of how many sweets you have.
As always, uncooked or raw fish and meat are not a good idea because of the risk of contamination. Processed meat and food products may contain bacteria and are low in nutrients—so be wary when you encounter things like charcuterie boards, avoiding salami, ham, and other deli meats or meat spreads.
What Foods Should Pregnant Women Avoid?
Fish high in mercury
Raw seafood
Raw or undercooked meat
Processed meat
Raw eggs
Organ meat
Soft cheese (such as Brie, goat, feta, bleu cheese, Camembert, etc., unless they're cooked until steaming hot)
2. Avoid Alcohol and Caffeine
One of the most challenging parts of pregnancy is that women cannot drink alcohol, despite all events overflowing with it. Ingesting alcohol increases the risk of fetal alcohol syndrome, pregnancy loss, and stillbirth.
Consuming caffeinated drinks like coffee and soda can also increase these risks, in certain doses. The American Congress of Obstetricians and Gynecologists advises that up to 200 mg of caffeine per day is okay, which is about one 12-ounce cup of coffee. So if you must splurge on a soda, tea, coffee, or other caffeinated drink, just be sure to keep close track of how many milligrams you have per day total.
Caffeine is negotiable during pregnancy, but alcohol is certainly not. No amount of alcohol is safe for pregnant women to consume.
Can You Drink Eggnog While Pregnant?
There are two important things to look out for before drinking a festive cup of eggnog. If you're at a holiday gathering, make sure you are positive that the eggnog contains no alcohol and that it was made with pasteurized eggs. Most store-bought cartons of eggnog will be fine, just be sure to check the label first.
3. Consult Your Obstetrician With Your Travel Plans
Traveling while pregnant is usually perfectly safe, but it's vital to ensure your comfort during the trip. Travel pillows, blankets, support bands, compression socks, and cozy clothing are a must. Some women may even benefit from treatments like pelvic floor physical therapy to ease the pains of pregnancy.
When you get to 30 weeks, some forms of travel may become risky. Get in touch with your obstetrician and talk to us about what you need to do. This is especially important if you have a high-risk pregnancy. Your pregnancy may be considered high risk if you: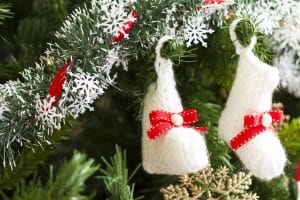 Are over 35 years of age
Are having multiples (twins, triplets, etc.)
Have certain conditions like high blood pressure or diabetes
Have had problems with pregnancy in the past
4. Get Moving, But Know When To Take a Break
Exercise is an integral part of a healthy pregnancy, and the hustle and bustle of the holidays encourages everyone to move around. You will likely walk a lot while buying presents, putting up decorations, and traveling from home to home to spread the holiday cheer. Just make sure you take regular breaks and call in for backup when you need it, as prolonged standing or heavy lifting could lead to complications.
5. Visit Your Doctor Regularly
The holiday season may be the happiest time of the year, but it doesn't mean it is not stressful. Planning celebrations, buying gifts, and preparing decorations require a lot of time and energy.
You need to manage your stress levels throughout the season. You need to see your doctor regularly throughout the pregnancy, but it may be especially important during the holidays when stress levels are high, your diet can be out of control, and you are attending too many activities.
Holiday Pregnancy Made Easier With Sylacauga Obstetrics and Gynecology
Pregnancy is an amazing experience for women, but it can also be daunting. Holiday pregnancy can be stressful, but you don't have to stop yourself from enjoying the festivities. Just make sure you indulge in moderation, and if you have questions, consult your obstetrician right away. At Sylacauga OB-GYN, we're here to help you enjoy the most wonderful time of the year while you await the most joyous occasion of life!
---
Sylacauga OB-GYN: Award-Winning Obstetrics in the Coosa Valley Area
At Sylacauga OB-GYN, we're small town doctors delivering big city care to women in Sylacauga, Childersburg, Alexander City, Talladega, and beyond. We love this time of year, and we look forward to helping you make the most of it with peace of mind about you and your baby's health. Meet our doctors and request your appointment by calling (256) 510-7163 today!