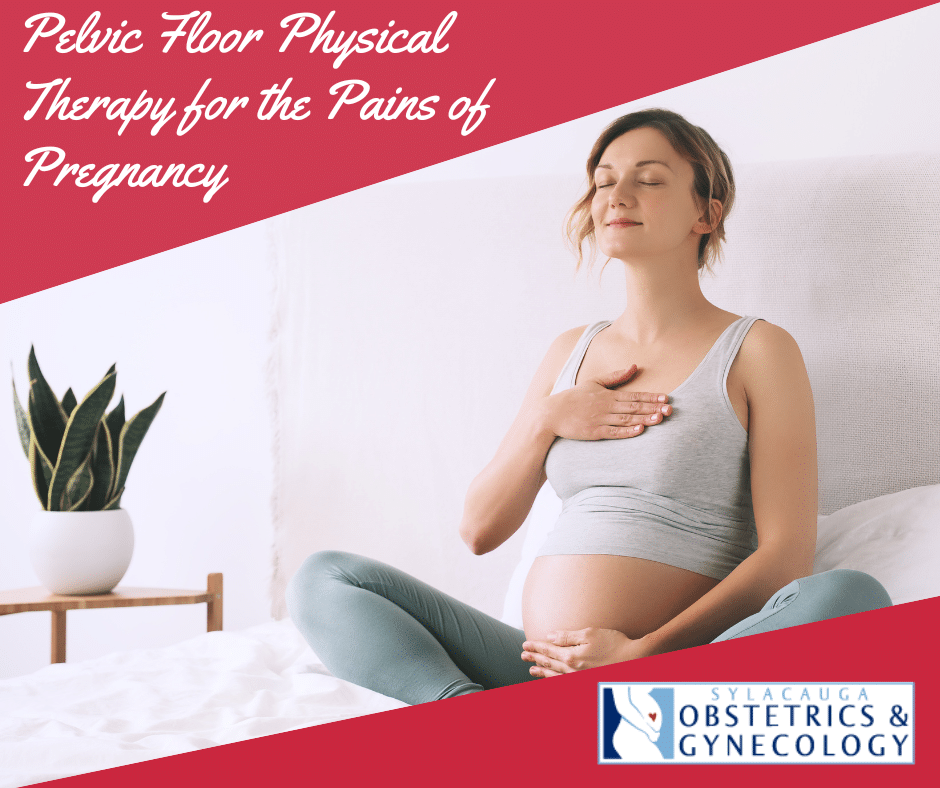 19 Sep

Pelvic Floor Physical Therapy for the Pains of Pregnancy

Last month, we talked about a revolutionary treatment for endometriosis: pelvic floor physical therapy (PFPT). Unsurprisingly, the pelvic floor muscles also play a very important role when it comes to another, much more common experience for women: pregnancy. Your pelvic floor handles a lot of pressure during pregnancy, and changing hormones cause the muscles to loosen in preparation for birth—which can lead to a whole host of discomforts.

Many women are told, more or less, that pelvic pain, back pain, incontinence, and more are simply things they have to grin and bear both during pregnancy and in the months following. In fact, the idea that there is anything you could do to avoid discomfort and improve your labor and delivery experience almost seems like a fantasy.

But with PFPT, you can optimize your pelvic floor to prevent and manage the worst of the painful disruptions that these changes can bring on. How is this possible? Let's dive in!
What is Pelvic Floor Physical Therapy for Pregnancy?
PFPT is a specialized form of physical therapy that helps you strengthen the muscles that make up your pelvic floor. These muscles support your bladder, uterus, vagina, and bowels. They stabilize your core and play a vital role in major bodily functions like defecating, urinating, and having sex—and, of course, supporting your growing baby bump!
PFPT is a combination of pelvic floor exercises, muscle training, breathing exercises, and other educational tips and tools to help prepare your body for birth and ease any current aches and pains. It is individualized to help you take care of yourself and train your muscles to work for you throughout your pregnancy journey!
How Can PFPT Help Pregnant Women?
Relieve Aches & Pains
We all know that some pain and discomfort is to be expected during pregnancy. But that doesn't mean you have to sit and endure it without seeking help! Pelvic floor therapy helps you build up those muscles so that they are more capable of handling the changes, boosting endurance and core strength. Some women find PFPT especially helpful for round ligament pain, which we've talked about before!
The methods of PFPT are also a great way to stay active safely during pregnancy, which can positively affect your labor, delivery, and postpartum recovery (we'll talk more about that below!).
Prevent Embarrassing Leaks
There may be no getting around the extra pressure your baby will exert on your bladder (sorry, moms-to-be!). But PFPT can help you control the leaks! In one 2020 study, women who received PFPT while pregnant were 62% less likely to report urinary incontinence (UI) late-term than those who did not. These benefits even carried over into postpartum life for 29% of the women involved.
Prepare Your Body for Labor & Delivery
During the course of your PFPT treatment, we'll teach you some simple, non-invasive stretches to open the hips and pelvic muscles. These movements are designed to keep the muscles from tensing up, allowing the baby to drop into the pelvic canal more easily.
We can also guide you through a variety of pushing options, delivery positions, and stretches that will best suit your individual body and position you (as best we can) for an easy delivery. Preparing your pelvic floor also has the possibility of shortening your labor: by about 28 minutes in the first stage and 10 minutes in the second stage. While that may not sound like very long now, it'll likely make a big difference to you when baby is on the way!
Help Navigate Postpartum Recovery
The more safe exercises you can do during pregnancy, the better prepared your body will be to recover. No matter whether you have had a C-section or vaginal delivery, PFPT can help alleviate postpartum pain, promote tissue repair, and rebalance your muscles. When your doctor gives the okay, you can even return for postpartum sessions to bolster your recovery and manage any ongoing issues with pelvic pain.
Should You See a Pelvic Floor Therapist During Pregnancy?
Yes! While there are many how-to videos online, pelvic floor exercises can be a little tricker than you think to get used to at first. Getting started under the care of a specialist at Sylacauga OB-GYN can ensure that you're performing the exercises correctly, doing only what's right and comfortable for you, and communicating your desires, preferences, and progress with your delivery team.
If you're looking for a way to ease pain, prepare for the big day, and give yourself the best chance of a quick recovery after giving birth, ask your obstetrician about pelvic floor physical therapy today!
Sylacauga OB-GYN: Pelvic Floor Physical Therapy in the Coosa Valley Area
At Sylacauga OB-GYN, we're dedicated to providing leading-edge therapies, treatments, and tools to women in the Coosa Valley Area. We're proud to offer pelvic floor physical therapy for a variety of conditions and concerns, as well as to work with you to achieve the birth experience you truly desire. To schedule your appointment, call (256) 487-7783 or contact us online today!