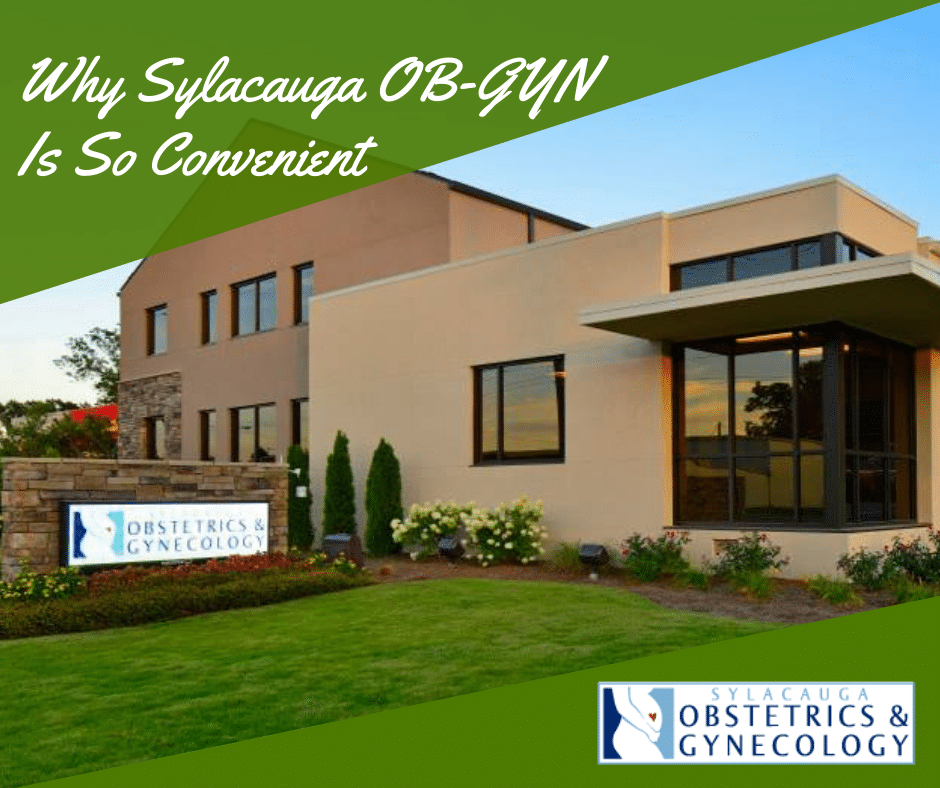 20 May

Sylacauga OB-GYN Is So Convenient! Do You Know Why?

Birmingham is a great city, but when you live in Sylacauga or the surrounding Coosa Valley area, it's quite a drive to get there. Not only that, when you do finally arrive, you will likely have to drive in heavy traffic, navigate roads you aren't familiar with, and try to find a parking place.

Not many of us want to deal with that, whether it's a once a year annual appointment or appointments every few weeks during pregnancy.

At Sylacauga-OB-GYN, we offer a much more convenient option! We are proud to be located in Sylacauga for women at every stage of life so that we can provide top-notch obstetrics and gynecology services in an easily accessible way. We are your small town, big city doctor, and that translates into convenience for you!
Why Sylacauga OB-GYN is Such A Convenient Option
Expert, experienced doctors, caring staff, and convenience – what more could you possibly want in an OB-GYN? Here's more information about these benefits of Sylacauga OB-GYN.
Easy Access to Exceptional Doctors
Our very own Dr. Emily McInnis has earned quite the reputation in our area since she joined our practice just a couple of years ago. For 2022, she has been named "Best Doctor" in the Coosa Valley area! Dr. McInnis is very deserving of this title, and we're proud to have her on our team. 
Dr. Rehberg is the owner of Sylacauga OB-GYN, and he is passionate about adopting new technology and making any changes necessary that will mean even better care for patients.
No Traffic, No Parking Fees, and No Parking Decks
When you come to your appointment at Sylacauga OB-GYN, you park right in our parking lot that's located beside our building. You don't have to deal with traffic, you don't have to pay to park, and you do not have to navigate city street parking or a parking deck. While these may seem like small factors, they actually make a huge difference in how long your appointment takes and stress levels surrounding that appointment.
Directly Across the Street From the Hospital Where You Will Deliver
For many patients, the fact that our office is directly across the street from Coosa Valley Medical Center where our doctors deliver is really important. It's convenient if you come to an appointment with us and we send you right over to the hospital. This proximity is also important for peace of mind since so many patients live close to the hospital. 
Coosa Valley Medical Center is also a wonderful place to bring a baby into the world. Just ask Dr. McInnis! She delivered her son here last year and shares all the details in this article.
Paperless Payment System and Patient Portal
We adopted this new system at the beginning of 2022, and with it, we introduced a lot more convenience for our patients. The patient portal provides a secure communication channel that allows you to be proactive in the management of your own and your family's health. 
You can pay your medical bills online, review your personal health records, view lab results, request refills of authorized prescriptions, view upcoming appointments, request referrals, and more. The payment portal is also fully integrated with an app where you can access information securely anytime, anywhere.
LEARN MORE ABOUT WHAT MAKES SYLACAUGA OBSTETRICS AND GYNECOLOGY A TOP PROVIDER
Sylacauga OB-GYN is the premier provider of obstetric and gynecological services in Sylacauga, Alexander City, Talladega, and the surrounding areas. From your first exam to your new little one's delivery, our staff and providers are here to make your journey as smooth as possible. At Sylacauga Obstetrics & Gynecology, we are ready to answer your questions, provide support, and guide your process during your baby's growth! 
No need to drive to Birmingham to receive a superior quality of care for you and your impending bundle of joy. We are big town doctors with small-town care! Check out our website or give us a call at 256-487-9346 for more information or to schedule an appointment. For more information about healthy pregnancies, delivery options, and more, give us a call or email us at [email protected].