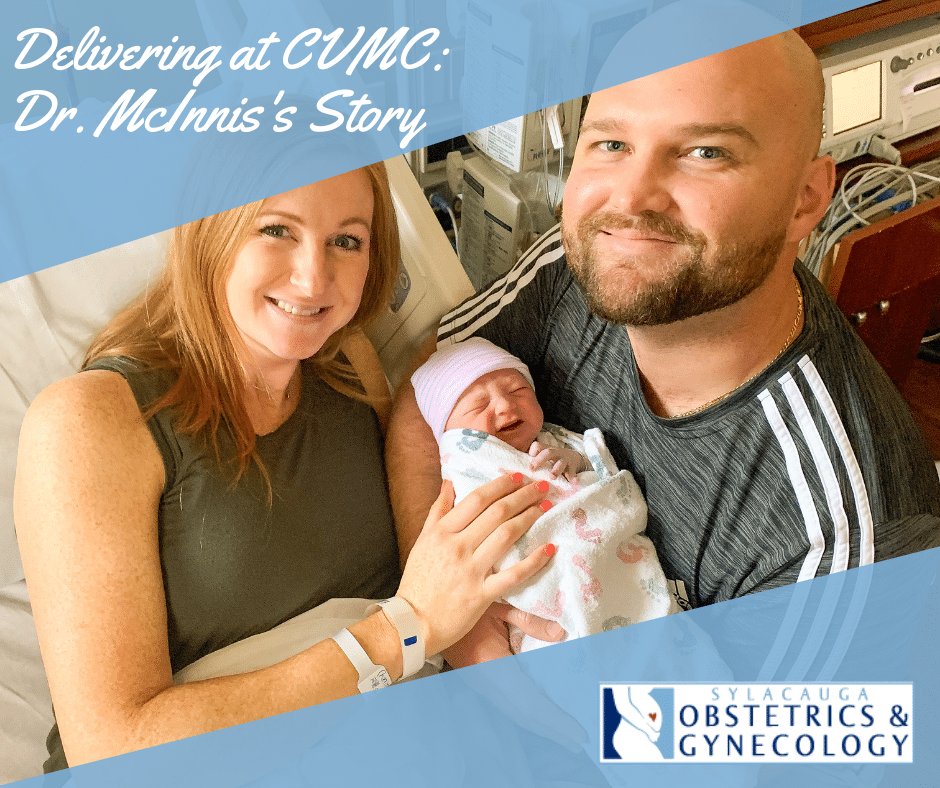 17 Nov

Delivering at Coosa Valley Medical Center in Sylacauga: Dr. McInnis's Story

By Dr. Emily McInnis, D.O.

I deliver sweet babies everyday, but believe it or not, I was clueless about what to do with a newborn of my own! It was a completely different experience being on the other side of things and learning how to be a mom after the delivery was over. My experience delivering at Coosa Valley Medical Center (CVMC) Women's Center was absolutely wonderful and made all the difference as I eased into motherhood..

Read more about Leo Joseph McInnis and our birth experience below, but I also wanted to share more about what it's like to deliver at CVMC and encourage others to start your own journey at this wonderful hospital in Sylacauga. 
Delivering Your Baby at Coosa Valley Medical Center
I decided to deliver at CVMC because I knew that both myself and my baby would be well taken care of. There is definitely something to be said for "small town care." You can't get that just anywhere. The compassionate care is much more personable than some of the options in bigger cities. The nurses in the Women's department at CVMC care about each and every patient and go above and beyond the call of duty to make you feel welcome, safe, and loved. They are not just there to be your nurse, but to make welcoming a new baby into the world an unforgettable experience.  
Keep in mind that I hear it all in the clinic: "There is no NICU," and "I know everyone who works here," or "It's a small hospital," and more. But I am here to tell you that there is nothing that compares to the care from the Women's floor at CVMC. They genuinely are there for you, not just as a nurse or physician, but as a friend. My experience was truly so great from the minute I walked in with my water broken until the minute we loaded Leo up in his car seat to go home. I encourage everyone to allow CVMC to care for you during the arrival of your little one!
Here are a few reasons why:
Close to Home
The hospital is located close to downtown Sylacauga. Most of the clinics in town, including Sylacauga OB-GYN, are on the same block as the hospital. This helps especially when patients are sent to L&D from the clinic for monitoring since it is right across the street. 
By staying local, you are also closer to your delivering physician, which can be extremely advantageous when you go into labor in the middle of the night. (Like I did!)
Smaller Hospital and Women's Floor
While some may see this as a negative, I think it's a huge advantage. At CVMC, you aren't just another patient in a giant hospital system. We usually have no more than 3 to 4 laboring patients at a time, and the nurses really get to know you and all of your family members during the laboring process. It is a very exciting and fun experience, and those ladies all know how to make you feel so special and loved. They have more time to focus on you and all the little details which make your stay so much more pleasurable. 
They do everything from nursing duties to being your photographer, to being a hand to hold when no family is available, to getting you special snacks/drinks when the cafeteria is closed, to comforting you through the ups and downs of the labor process. They are with you each and every step of the way. 
Also, being a small hospital, the nursery is right down the hall from L&D. The laboring rooms, postpartum rooms, and the nursery are all located on the same floor which makes things easy for a new mom! 
Experienced, Kind Nurses
The nursery nurses love on your baby and take great care of them, often giving mom a break when you just need to rest! They coach you through everything from feeding, sleeping, diapers, and bathing a newborn. These ladies coached me every step of the way and it was such an awesome experience. I learned so much from them, and ALL of their tips and tricks worked!
Top 3 Favorite Things About Delivering at CVMC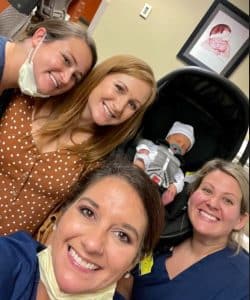 Being an OB-GYN who delivers babies at CVMC definitely made my experience unique, but it was also really helpful to me as a doctor to get this first-hand look at what it's like for a patient. With that in mind, here are my top 3 favorite things about delivering at CVMC.
Knowing the team. Some people ask me, "Isn't that weird knowing everyone that was part of your delivery?" And my answer is absolutely not! I loved that I knew everyone and it made it that much more special of a day. Even though I work with them on a daily basis they still treated me like they would any patient, and I was able to see from the other side of things how great they are at their jobs. 
The smaller size of the hospital. I already mentioned this, but it's worth repeating. I happened to be the only person in labor that particular day, and this is not unusual. It's so nice because you get all of the nurse's undivided care. We have four laboring rooms, compared to some large hospital systems having 15 to 20. This means that you are tended to efficiently and are not "just another number" on their quota. They have time to really get to know you and form a relationship with you. After all, this is one of the most special days of your life, and you want it to be memorable!
The nursery team. I cannot say enough about these ladies. They loved on Leo and helped me with him SO much. They are encouraging and taught me so much about taking care of a newborn. While I am very comfortable with delivering babies, I have no clue what to do with them when they are MINE and I am taking them HOME! These ladies walked us through everything from feeding, bathing, diapers, changing, etc. They even gave us tips on sleeping which worked wonders. They knew when I was desperate for a nap and came to give mom and dad a break for a few hours each night which was MUCH appreciated. 
More About Dr. McInnis's Birth Story
Leo Joseph McInnis weighed 6 pounds, 12 ounces and was 19 inches long. He came a little early at 37 weeks 6 days when my water broke! Surprise!
We were at my parents' house, and it was the night of the opening ceremony of the Olympic games. That night at 3:00 a.m. my water broke, so we packed our car and headed straight to the hospital. I called to let them know I was on my way, and they had everything ready and prepared when I waddled up to Labor and Delivery. It was such a smooth check in process, and before I knew it, they had my IV going, labs drawn, epidural in, Pitocin running, and I was ready to go! 
Around lunch, little Leo made his arrival thanks to Dr. Rehberg. (I give him an A+ on delivery by the way!) He was healthy and happy, and it was the absolute best feeling in the world getting to hold him on my chest for the first time. 
The key to the whole process is staying calm and being flexible with your check-list that you may have in your head for your experience. Everyone has a different birth story, and that is okay! Everyone's bodies and babies are different. I would have been just as happy if I had a Cesarean Section if needed; whatever it takes to get the baby here healthy and keep mom healthy. Being flexible makes everyone's job easier and usually ends in better results. 
Once again, I truly attribute my wonderful delivery experience to the team at CVMC. I would not change anything, and I encourage other expecting moms to consider having your baby there as well! 
LEARN MORE ABOUT WHAT MAKES SYLACAUGA OBSTETRICS AND GYNECOLOGY A TOP PROVIDER
Sylacauga OB-GYN is the premier provider of obstetric and gynecological services in Sylacauga, Alexander City, Talladega, and the surrounding areas. From your first exam to your new little one's delivery, our staff and providers are here to make your journey as smooth as possible. At Sylacauga Obstetrics & Gynecology, we are ready to answer your questions, provide support, and guide your process during your baby's growth! 
No need to drive to Birmingham to receive a superior quality of care for you and your impending bundle of joy. We are big town doctors with small-town care! Check out our website or give us a call at 256-487-9346 for more information or to schedule an appointment. For more information about healthy pregnancies, delivery options, and more, give us a call or email us at [email protected].