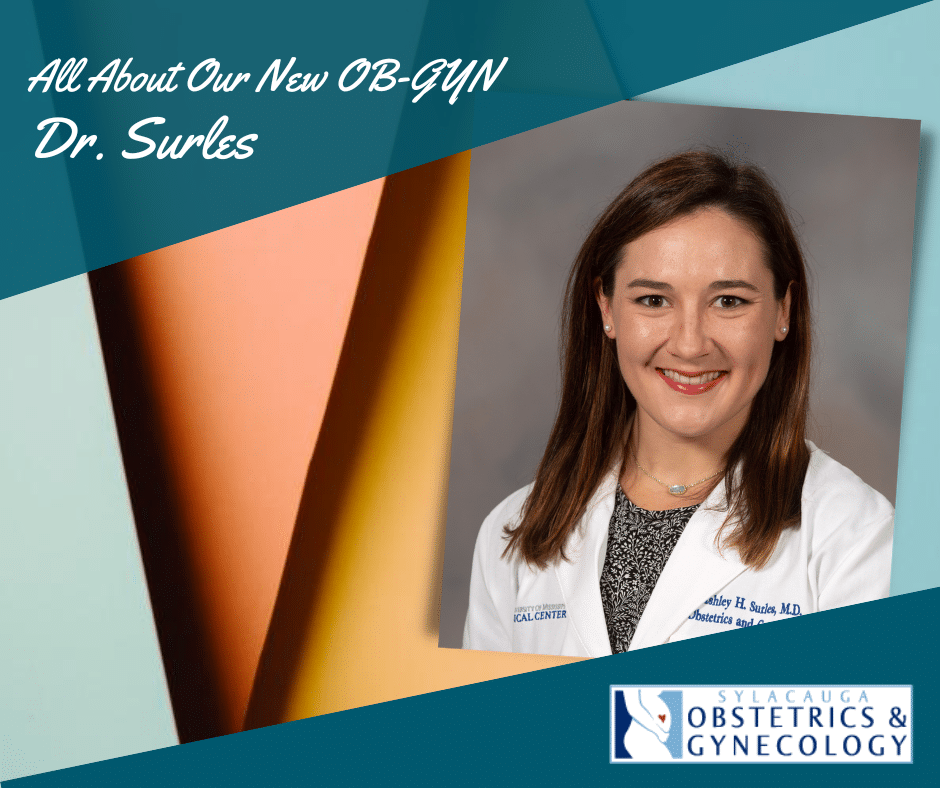 06 Oct

All About Our New OB-GYN, Dr. Surles: Her Arrival & Vision

At Sylacauga OB-GYN, we're always on the lookout for ways to improve women's health in the Coosa Valley Area. In our pursuit for greatness, we were fortunate enough this year to welcome a new OB-GYN into our practice: Dr. Ashley Surles. Since her arrival in August, we've been thrilled at how quickly she has adjusted and begun to thrive in our office. So, we wanted to touch base with her to see how life in Sylacauga has been going so far!

As a female OB-GYN from a small town, Dr. Surles knows firsthand the importance of trust and compassion when it comes to women's health. So let's get to know a little bit more about this new addition to the Sylacauga OB-GYN family.
Life at Sylacauga OB-GYN Since August
"My first few months have been great!" Dr. Surles says. "I have really enjoyed getting to know my coworkers and patients from Sylacauga and surrounding areas. Everyone here is so kind and helpful! The adjustment process has been very smooth. Dr. Rehberg has established himself to have a very efficiently run clinic and it's true. It hasn't been hard to follow along with the process at Sylacauga OB-GYN."
At Sylacauga OB-GYN, we always strive to make healthcare easy, convenient, and comprehensive for women in the Coosa Valley Area. That goes for our doctors and staff, too! We know that when our processes and procedures are efficient, we can protect and respect our patients' time.
A Focus on Women's Wellbeing & Minimally Invasive Procedures
We asked Dr. Surles about her vision and what motivates her. "I am very interested in discussing health and wellness with my patients and coming up with ways to improve this that work with their lifestyle," she says. "I am also very interested in continuing my training in minimally invasive gynecologic procedures. If a procedure can be done without large incisions, patients do so well and are able to get back to their normal routine so much faster."
In everything we do, we aim to truly improve the lives of our patients, and we're excited to have another member of our team whose vision aligns with ours. We already offer many advanced techniques, including minimally invasive laparoscopic surgery options for procedures like:
Ovarian cyst removal
Endometriosis surgery
Fibroid removal
Tube sterilization ("tube tying")
Hysterectomy
More
We look forward to offering even more new technologies and health and wellness support in the years to come, as Dr. Surles brings her passions and expertise to our community!
An Opportunity to Do Good Work
Dr. Surles says that "joining this practice is a culmination of my dreams and hard work realized. This is what I have been working for my entire life and I'm so thankful that Sylacauga is the community I have been placed in. I could not have asked for a more welcoming and caring community of women to be my patients. I could not have gotten a more helpful, intelligent, and hard-working team in Sylacauga OB-GYN. My partners and staff truly make my days worthwhile!"
From annual gynecological exams to first-time parenthood to mammograms and beyond, we're so proud to have a strong team that can do it all for women at every stage of life. Dr. McInnis hand-picked Dr. Surles for our team because she is already becoming another exceptional addition to our close-knit team of providers.
Getting to Know the Coosa Valley Area
Dr. Surles is already settling in nicely to life in Talladega County. "Sylacauga is the perfect blend of small-town community with city perks," she says.
"They have a TJ Maxx (hello bargains!) and Chick-fil-A, but they have locally owned shops and restaurants that you can't find anywhere else. My husband and I have been trying out a lot of the restaurants in the area, and so far we really love El Vaquero's, Odie's Deli, and Cuppa Grace coffee. I also love shopping at the Mercantile on Broadway and Trailwares."
We believe that receiving care from people who know and love your community makes a big difference! Also, did you know that Dr. Surles's husband, Dr. Bret Surles, is now a pediatrician at Sylacauga Pediatrics? We're so excited that our town has gained not just one but two caring and highly skilled doctors this year. Moms-to-be, take note!
Make Your Appointment with Dr. Surles Today
Dr. Surles is so excited to take care of the women of Sylacauga and the surrounding area, and she will likely be able to get you in a lot sooner than you think! So if you've been searching for a new OB-GYN in Sylacauga or the surrounding Coosa Valley Area, give us a call. You don't have to wait for months on end to be seen all the way up in Birmingham. Dr. Surles is taking new patients now, right here in town.
Sylacauga OB-GYN: Small Town Doctors, Big City Care
When it comes to your health, don't overlook the importance of having a doctor who can meet you where you are. Skip all the stresses of long drives, maze-like health complexes, and expensive parking garages. Get high-quality care in your own backyard with us! To schedule an appointment, please call us today at (256) 487-7783 or contact us online.