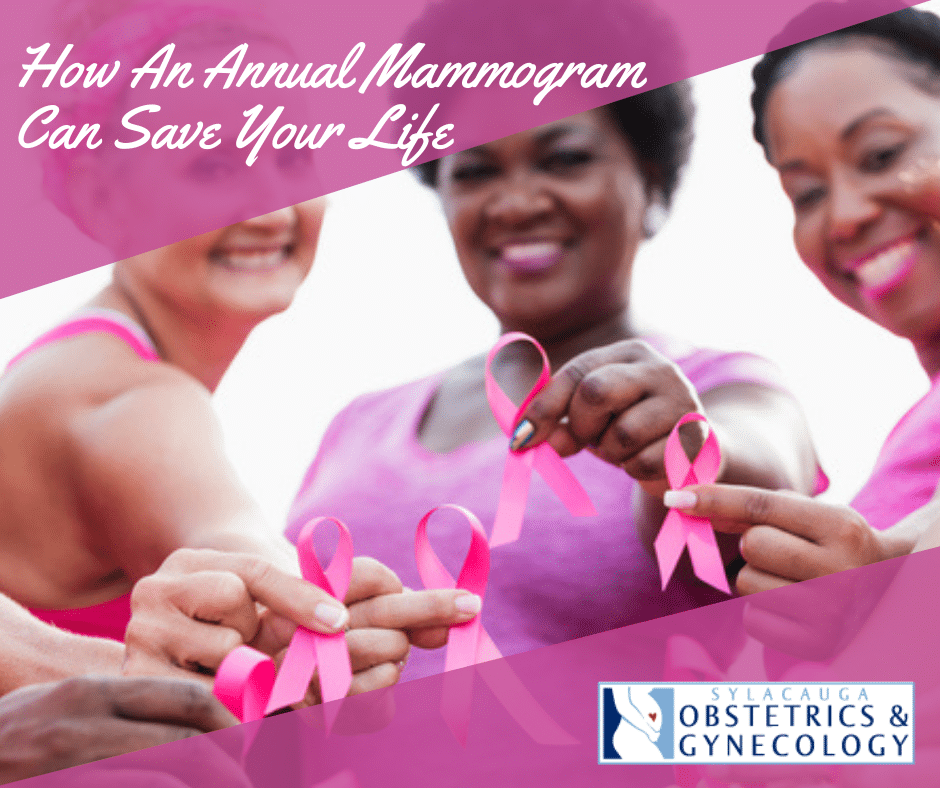 06 Oct

How An Annual Mammogram Can Save Your Life

Breast cancer is the most common cancer diagnosed among US women, and it is the second leading cause of death among women after lung cancer. Approximately 1 in 8 women (13%) will be diagnosed with invasive breast cancer in their lifetime, and 1 in 39 women (3%) will die from breast cancer.

October is Breast Cancer Awareness Month, and it's a great time to learn these facts and figures. At Sylacauga OB-GYN, we are thankful for the opportunity to help women in the Coosa Valley region of Alabama detect breast cancer early so that we save lives.

To do this, our most powerful tool for breast cancer detection is mammography, combined with annual exams. It is crucial for women to receive regular mammograms to check for signs or symptoms of breast cancer. The earlier breast cancer is found and treated, the higher the likelihood it will be curable.
Why Early Detection with a Mammogram is So Important
First, let's define what mammography is exactly. It is a screening test using x-ray technology to examine the breast and identify breast cancer and other conditions related to the breasts. The images created from the x-ray are called a mammogram, which is interpreted by a radiologist who determines if a patient is at risk for breast cancer.
According to the American Cancer Society and our own experience at Sylacauga OB-GYN, early detection of breast cancer by mammography reduces the risk of breast cancer death and increases treatment options. This may mean less extensive surgery and/or the use of less chemotherapy, and sometimes, the option to forgo chemotherapy. 
Combined analysis of breast cancer screening in randomized trials has demonstrated an overall reduction in breast cancer deaths of about 20%. Other results from organized mammography programs in Europe and Canada indicate that the risk of breast cancer death was reduced by more than 40% among women who were screened. To find more facts and figures, see the American Cancer Society Breast Cancer Facts & Figures 2019-2020.
Guidelines for Breast Cancer Screening & What to Expect
While there may be unique situations related to health history and family history, and each woman's needs may be different for mammograms, our general guidelines for screening include:
Women should begin annual screening between the ages of 40 and 44

Women ages 45 to 54 should be screened annually

Women ages 55 and older should transition to biennial screening or continue screening annually

Women should continue screening as long as their overall health is good and they have a life expectancy of 10 years or more
When you come in for a mammogram, we do ask that you refrain from wearing powder, lotions, or deodorants since they can show up on your x-ray. Mammograms often cause brief discomfort from the machine's pressure and compression. We recommend waiting until a week after your menstrual cycle to have the test performed, as the breasts are often less tender.
For breast cancer screening, we may also perform a clinical breast exam during your annual visit to check for abnormal shapes, puckers, dimples, or redness of the breasts. Clinical breast exams should be performed every one to three years for women ages 25 to 39 and every one to two years for women 40 years and older.
Self-examinations of your breasts are also important and should be done in the shower each month, regardless of age (after reaching puberty). Daily healthy habits are also important, such as eating healthy foods, drinking plenty of water, and exercising to lower your overall risk of cancer.
Breast Cancer Diagnosis
Breast cancer is typically detected either during screening, before symptoms have developed, or after a woman notices a lump. Most masses seen on a mammogram and most breast lumps turn out to be benign (not cancerous). 
When we do suspect cancer, tissue for microscopic analysis is usually obtained from a needle biopsy and less often from a surgical biopsy. Selection of the type of biopsy is based on multiple factors, including the size and location of the mass, as well as patient preferences and resources
While mammography is our most powerful breast cancer detection tool, mammograms can still miss 20% of breast cancers that are simply not visible using this technique. Other important tools mentioned above, such as breast self-exam and clinical breast examination (and possibly ultrasound or MRI) should be used as complementary tools, but there are no substitutes or replacements for a mammogram.
Schedule Your Mammogram at Sylacauga OB-GYN Today
During Breast Cancer Awareness Month we encourage you to schedule your annual exam and/or a mammogram if you fall into the appropriate categories based on your age and health or family history. As we have gone through the COVID-19 pandemic, many women have put off these annual appointments, but the time has definitely come to get them scheduled. 
Many women have questions about mammograms, and we are happy to answer those at any time. Find a few debunked myths about breast cancer, and remember that mammograms are our greatest tool to save lives through the early detection and early treatment of breast cancer!
LEARN MORE ABOUT WHAT MAKES SYLACAUGA OBSTETRICS AND GYNECOLOGY A TOP PROVIDER
Sylacauga OB-GYN is the premier provider of obstetric and gynecological services in Sylacauga, Alexander City, Talladega, and the surrounding areas. From your first exam to your new little one's delivery, our staff and providers are here to make your journey as smooth as possible. At Sylacauga Obstetrics & Gynecology, we are ready to answer your questions, provide support, and guide your process during your baby's growth! 
No need to drive to Birmingham to receive a superior quality of care for you and your impending bundle of joy. We are big town doctors with small-town care! Check out our website or give us a call at 256-487-9346 for more information or to schedule an appointment. For more information about healthy pregnancies, delivery options, and more, give us a call or email us at [email protected].