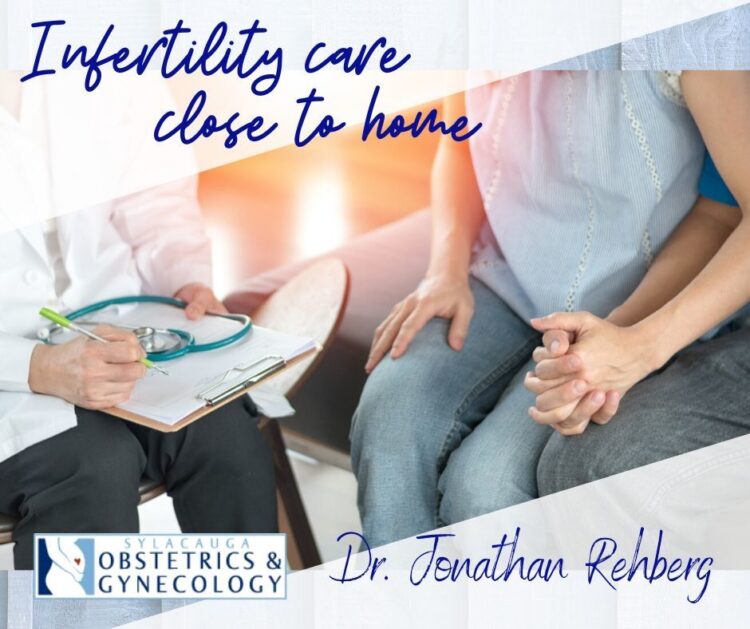 27 Feb

Dr. Rehberg explains infertility evaluation and treatment

One of the most challenging things people face in life is infertility when trying to build a family. According to the Center for Disease Control and Prevention (CDC), about 13 percent of women aged 15-44 in the United States have difficulty becoming or staying pregnant. 

At Sylacauga OB-GYN, we provide top-quality care for women in all stages of life, and we are especially there for them during these most difficult times. When a woman is unable to become pregnant after one year of trying (six months for women 35 and older), we test for infertility and provide intensive, compassionate treatment based on individual circumstances. 
Infertility evaluation and testing at Sylacauga OB-GYN
It is our philosophy to treat each patient as if they are a member of our families. We care for each infertility patient as the unique individual they are and as a person who is struggling with very trying circumstances. We do so by conducting a thorough and sympathetic evaluation, which helps us get to know you and your medical history.
During an infertility evaluation, we assess the underlying causes of why you haven't been successful getting pregnant. You and your partner can expect to answer some questions about your health and sexual history: 
What medications are you taking?

What is your occupation?

What is your history with tobacco, drug, and alcohol use?

Do you have a history of illnesses (including but not limited to STIs)?

Have you ever had surgery? 

What type of birth control do you use?

How long have you been trying to become pregnant?
Infertility Testing
After your evaluation, we will conduct some tests that help determine possible causes of infertility. These tests may include the following: 
Blood and urine tests to check hormone levels and thyroid function

Ultrasound to check your uterus and ovaries for any anomalies 

Hysterosalpingogram

(HSG) to check if your fallopian tubes are blocked or to investigate miscarriages due to problems in the uterus  
Treatment options at Sylacauga OB-GYN
The treatments we offer at Sylacauga OB-GYN for infertility involve different hormones or steroids that help address the causes of infertility we discover during evaluation and testing. We may prescribe the following drugs to assist and encourage ovulation:
We provide intensive treatment for the best care possible
Patients return for office visits to test their mid-luteal progesterone level, which occurs on days 21, 22, or 23 of the menstrual cycle. We are then able to make adjustments to the treatment as needed. Our protocol for infertility treatment is very intensive because we want to ensure you have the best care and the support you need throughout this difficult journey. We are also always available and willing to answer any questions during the entire process.  
We strive to provide effective, compassionate care for our patients with fertility concerns, and we have been Sylacauga's first choice for high-quality women's healthcare for over a decade because of our dedication. 
---
LEARN MORE ABOUT WHAT MAKES SYLACAUGA OBSTETRICS AND GYNECOLOGY A TOP PROVIDER
Sylacauga OB-GYN is the premier provider of obstetric and gynecological services in Sylacauga, Alexander City, Talladega, and the surrounding areas. Give us a call at 256-249-6995 for more information or to schedule an appointment.